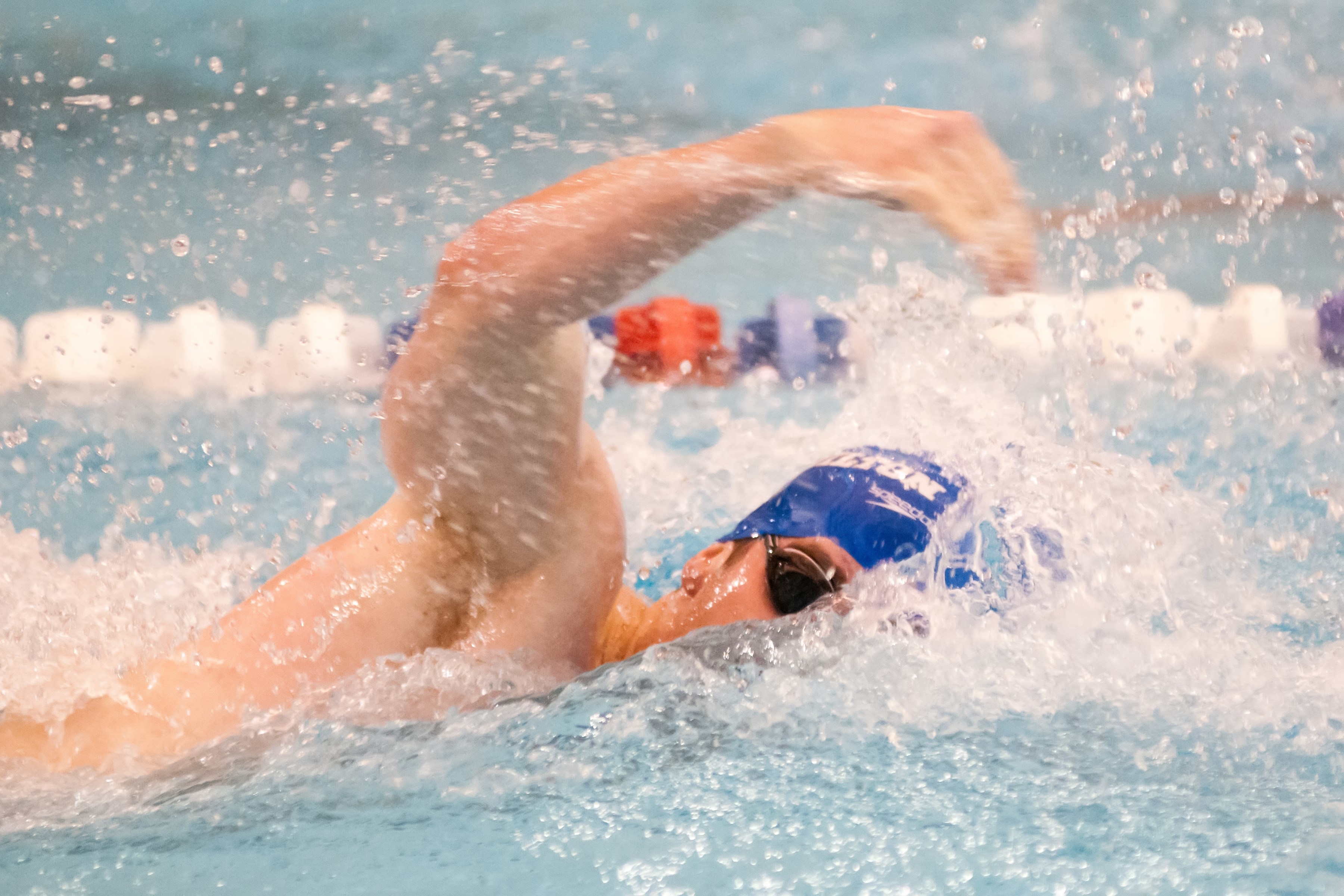 Team captains Alex Jones '16 and John McBratney '16 lead the Hamilton College men's swimming and diving program into 2015-16. Both swimmers were part of a 200-yard medley relay that set a school record last season, and they are on the team's Top Ten Times list multiple times.

McBratney has been the best distance swimmer on a roster that is deep in those events. He is on the top times list in four events including the 200 freestyle (seventh), 500 free (sixth), 1,000 free (fifth) and 200 individual medley (seventh). McBratney also anchored the 200 medley relay that set a school record last season with a time of 1:34.05. He was joined on that relay by Jones, Tripp Miller '18 and Reid Swartz '15.

Jones, who leads the Continentals in the butterfly events, can be found on the top times list in the 200 fly (seventh) and the 100 breaststroke (10th). Miller enjoyed a fine freshman season as he already owns the second-fastest 200 breast time in school history and is fifth on the 200 IM list.

Swartz graduated in the spring after a great career at Hamilton. In addition to the 200 medley relay, he holds five school records, including all three backstroke marks. Swartz also earned a number of NESCAC all-conference honors.

Ryan Cassidy '17 posted one of the fastest times in Division III in the 1,650 free last season. Cassidy and McBratney are a formidable 1-2 punch in the distance events. Cassidy appears on the top times list in the 500 free (seventh), 1,000 free (third) and the 1,650 free (fifth). Trevor Pearson '18 is yet another option in distance events as he is eighth in the 1,000 free on the top times list.

Ben Cooper '18 is the top returner in the backstroke and is on the top times list for the 100 back (eighth) and the 200 back (seventh). In diving, Cole Bodak '17 and Julian Ziaggi '17 are back for the Continentals.

Eight freshmen will provide depth in all the strokes and diving.

The 2015-16 schedule is highlighted by the Hamilton Invitational on Dec. 4 and 5. The Continentals won last year's five-team invitational. Hamilton also hosts dual meets against Wesleyan University (Jan. 3), Rochester Institute of Technology and Vassar College (Jan. 16), Skidmore College (Jan. 20) and RPI (Jan. 30). The team travels to the Florida Keys for several days in early January to train and compete outdoors. The season concludes with the NESCAC Championship, one of the top conference meets in Division III, at Williams College in February and the NCAA Men's and Women's Swimming & Diving Championships in Greensboro, N.C., in March.