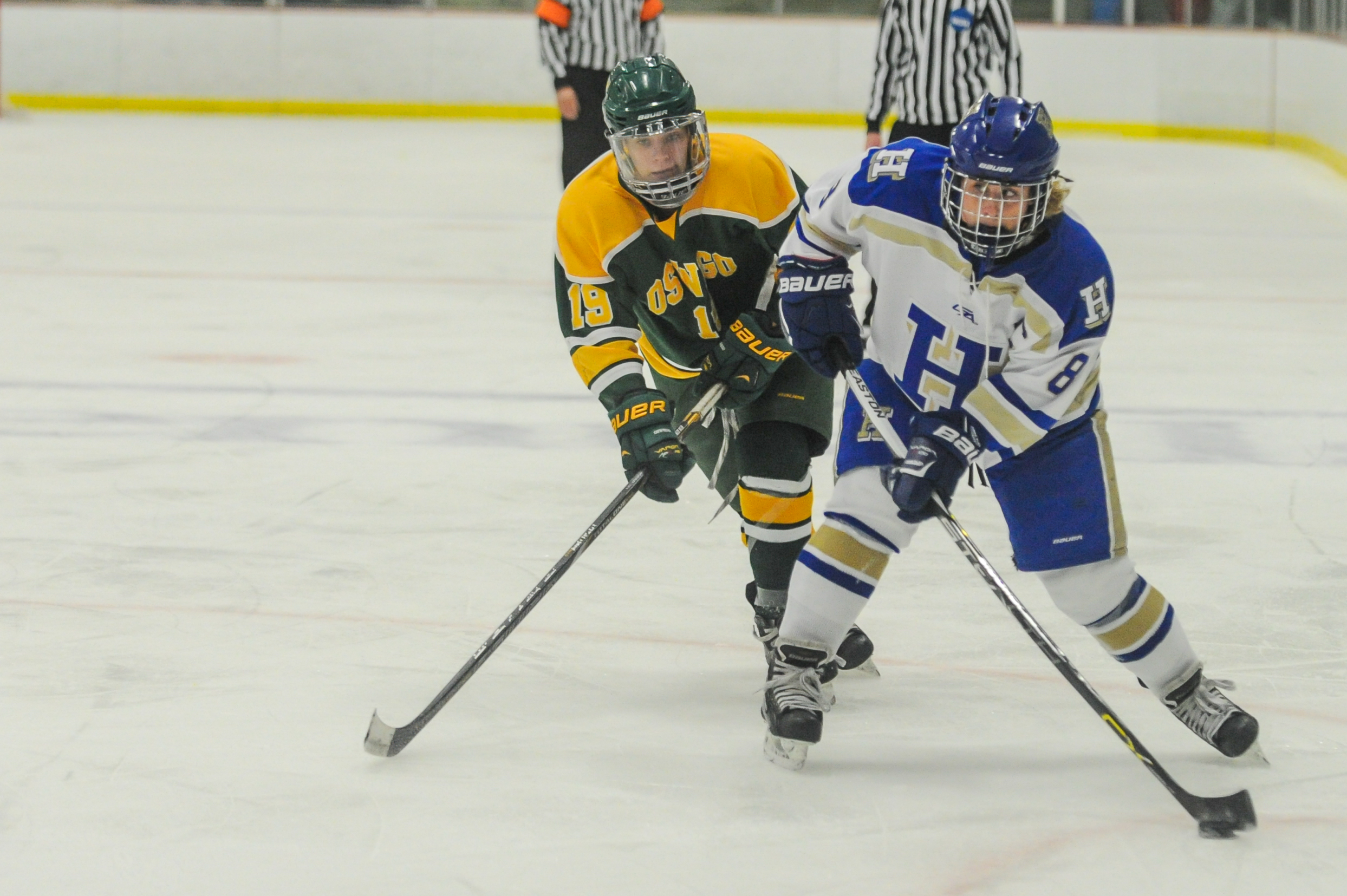 NESCAC all-conference honoree Katie Parkman '17 and record-setting goalie Sam Walther '18 will help lead the Hamilton College women's hockey team into 2015-16.

The Continentals will have plenty of veteran leadership as six seniors are featured on the roster including captains Hannah Bartlett '16 and Megan Fitzgerald '16, in addition to Casey Brown '16, Naomi Woolfenden '16, Ianthe Lekometros '16 and Alycia Racicot '16.

The Hamilton women won 10 games last season, set a team record with five shutouts and matched another with four ties. The Continentals advanced to the NESCAC championship quarterfinals for the 13th time in 14 years and it turned out to be one of the most incredible games in women's hockey conference tournament history.

Walther made an unbelievable 80 saves in a 3-2 quadruple-overtime setback at Middlebury College that went down as the longest game in NESCAC tournament history at 126-plus minutes. The save total was a program and NESCAC record, and it was the fifth-highest total in a Division III game and an NCAA record for a postseason contest.

Hamilton was ranked second in the conference in scoring defense with 1.68 goals allowed per game. The Continentals went 5-0-2 from Dec. 2 through Jan. 16 -- a stretch that included the Saint Michael's College DoubleTree Classic title. Hamilton also recorded its first season series win against Bowdoin College in program history by going 1-0-1 in Brunswick, Maine.

Parkman, who was voted to the all-conference second team and was named the most valuable player of the DoubleTree Classic, leads the offense. She scored 10 goals and added 10 assists for 20 points, and tied for fifth place in the NESCAC with three game-winning goals last season.

Bartlett was next with eight goals and 11 points, and Teal Gosselin '17 added six goals and 10 points. Gosselin tied for fourth place in the conference with four power-play goals. Brown and Megan Ahern '17 chipped in two goals and seven assists apiece, and Ahern was placed on the DoubleTree Classic All-Tournament Team.

Steph DiPietro '18 scored five goals in her first year last season. Fitzgerald, Lekometros, Racicot and Elana Van Arnam '17 round out the forwards on this season's roster.

Sara Taffe '17 has proved to be the team's top two-way player on defense as she recorded three goals and eight assists last season. Taffe tied for sixth place in the NESCAC in defender scoring with 11 points. Mairead Carey '18 was close behind with four goals and four assists in her rookie year. Jade Alvillar '18, Woolfenden, Kylie Davis '18, Maddie Carras '18 and Caroline Knop '18 will play important roles on the blue line as well.

Walther ranked sixth in the conference and set program records with 1.76 goals against average and .937 save percentage last season. She posted three shutouts in 19 starts and made 503 saves in nearly 1,160 minutes. All three of those shutouts were against conference opponents. Walther is the only returning goalie on the roster.

The Continentals play 13 of their 24 games at Russell Sage Rink this winter. The home opener is against SUNY Oswego on Nov. 24. Hamilton plays 16 NESCAC games, including two contests at Williams College to kick off the season on Nov. 20 and 21. The first home conference game is against Colby College on Dec. 4, and the Continentals also host NESCAC games against Trinity College (Jan. 15-16), Middlebury (Jan. 29-30) and Connecticut College (Feb. 19-20). Hamilton returns to the Saint Michael's DoubleTree Classic and will take on the hosts on Jan. 8 before clashing with Plymouth State University on Jan. 9.