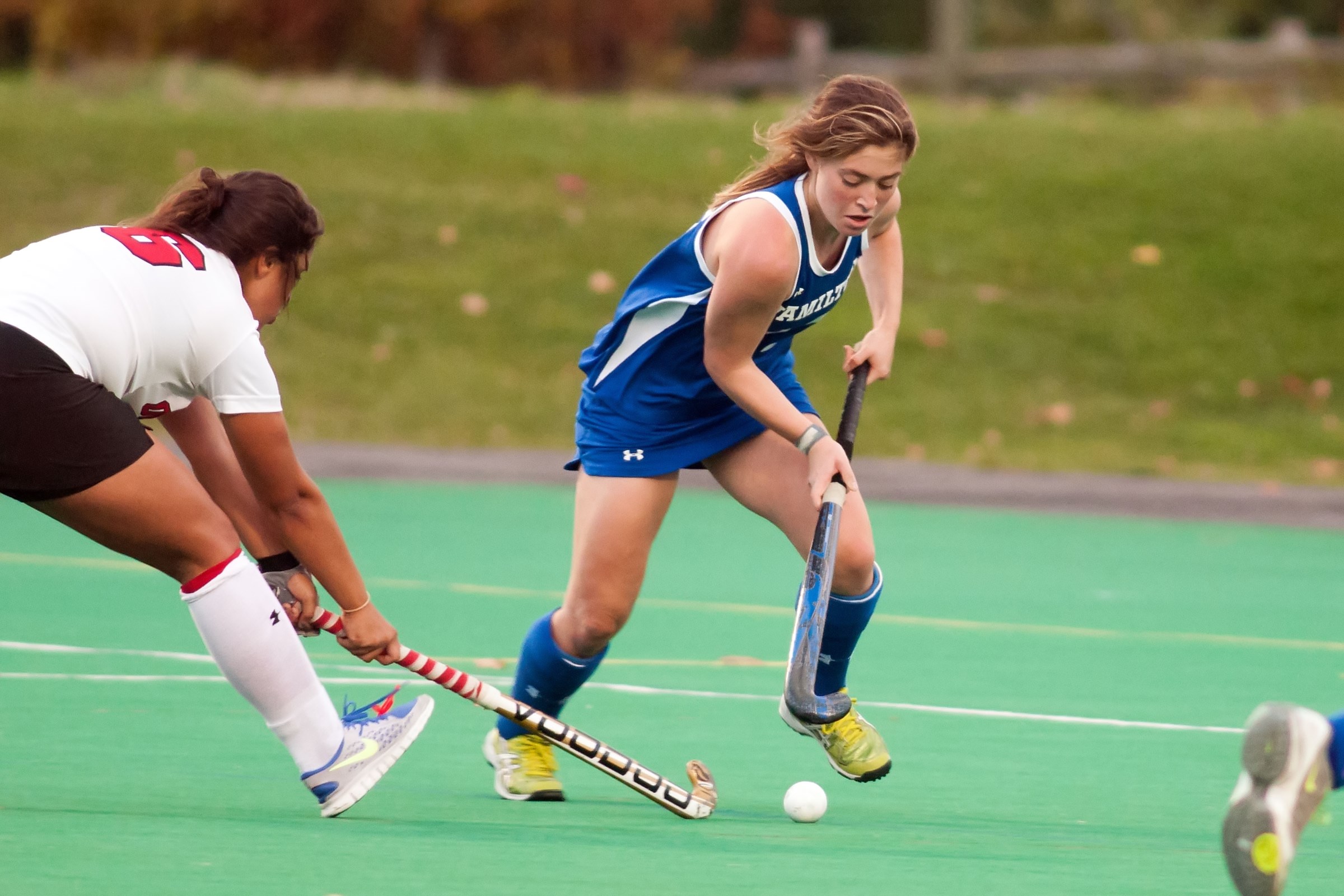 Eva Rosencrans '17 and six other returning starters aim to put Hamilton College field hockey in the postseason for the sixth time in the last eight years in 2015.

The Continentals won five of their first six games last year and ended the season with a spot in the 2014 NESCAC Championship quarterfinals. Hamilton has made it to the playoffs twice in the program's first four years in the conference.

Rosencrans is a two-time member of the NESCAC all-conference and New England West All-Region teams. The forward was voted to the all-region first team last year after she ranked third in the NESCAC in goals per game and fourth in points per game. Her 17 goals and 36 points were the second-highest totals in a season in team history. Rosencrans is already tied for fourth place on the program's all-time list for most goals in a career with 25.

Aubrey Coon '16 enjoyed a breakout year as a junior with four goals and a team-high seven assists for 15 points. Coon finished 10th in the conference in assists per game and will be counted on to lead the midfielders again this year.

Forward Casey Brown '16 and Coon are the only seniors on the roster. Brown was second on the team with five goals last year. Other returners who should play a role on offense include forwards Merisa Dion '17 (3 goals) and Eleni Neyland '18, and midfielders Maggie Revera '18 (1 goal, 2 assists), Katie Guzzetta '18 (1 g, 2 a), Caroline Ames '17 and Emma Anderson '17. All six players recorded at least one point in 2014.

Liz Wagenbach '18 and Aly Skelly '18 started in the back as first-years last season and should see plenty of action again in 2015. Emily Davidshofer '17 will provide much-needed depth both in the back and at midfield.

The Continentals have to replace Sam Sherman '15 and goalie Victoria Trentini '15, both of whom graduated in the spring. Sherman finished her Hamilton career with 21 defensive saves and Trentini -- a four-year starter -- holds the program's career record with 524 saves. Head coach Gillian McDonald will have a pair of first-year goalies to choose from as they compete for the starting job.

There is a good chance that a number of rookies will find their way on the field for meaningful minutes as eight of the 20 players on the roster are members of the Class of 2019.

The Continentals open the season with a home game against Rensselaer Polytechnic Institute on Sept. 9 at the brand new Campus Road Athletic Complex. The team's NESCAC opener is also at home against Bates College on Sept. 12. Other NESCAC home contests include: Wesleyan University and Tufts University during Fallcoming on Oct. 3 and 4, respectively; Amherst College on Oct. 10 and Colby College during Family Weekend on Oct. 24.