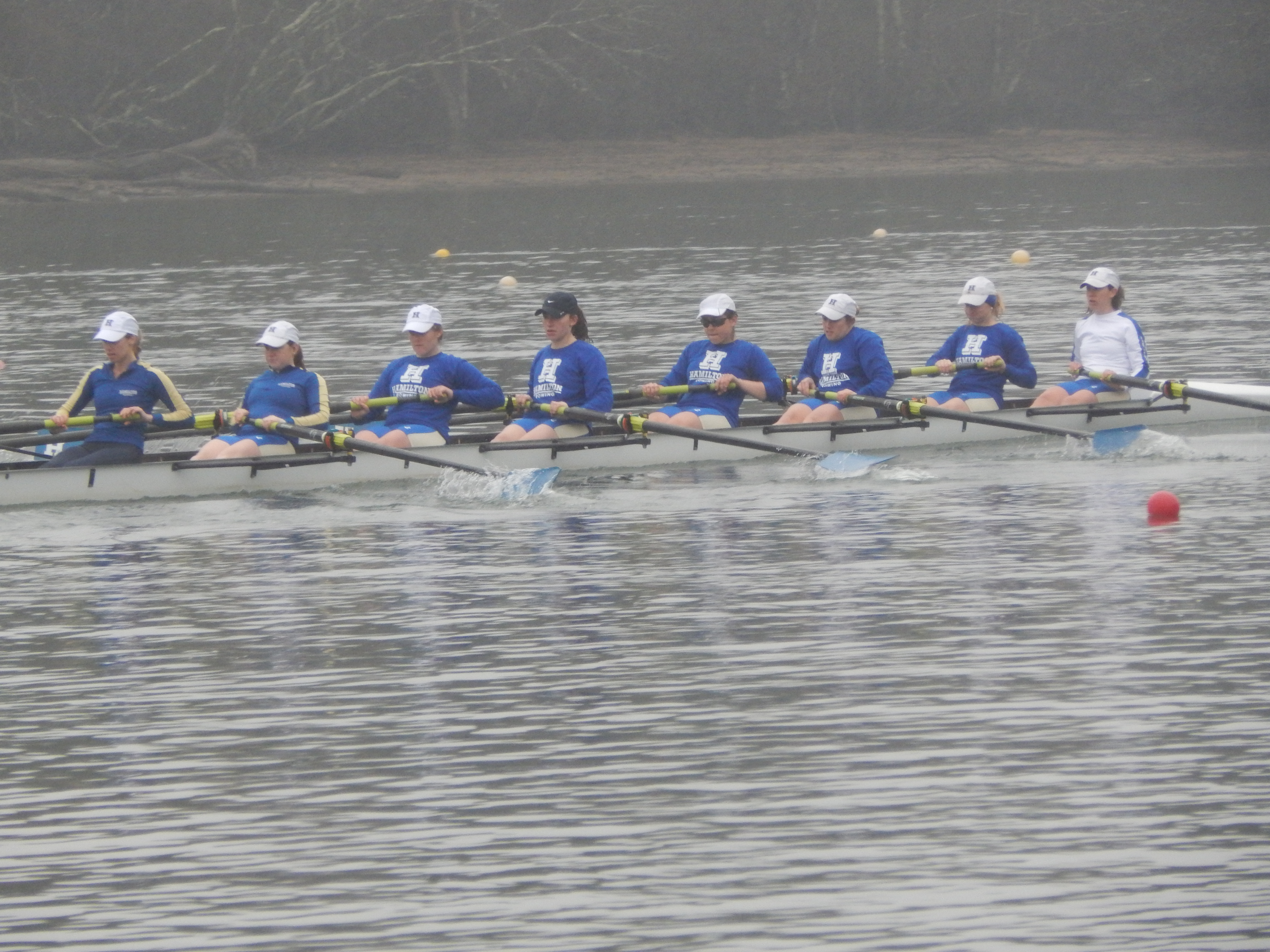 For the second year in a row, members of Hamilton College's rowing teams are providing daily updates from the teams' spring trip. The sixth edition of this year's blog is a collaboration from Keara Lynn '16 and Heather Piekarz '16.

The teams got to sleep in today and headed to the race course at 8 a.m. for the first race of the season. For the two of us -- who were abroad this past fall -- it was our first race since last May. Everyone was ready to go! Though it continued to drizzle throughout the morning, we had flat water and almost ideal conditions.

The first crew to launch was the women's second varsity 8, who we watched come down the course as we paddled up to the starting line. Although the Continentals were behind off the starting line, the varsity 8 pulled ahead and won their race against Skidmore by 26 seconds! Next to launch was the men's varsity 8, who won its race by nine seconds.

The women's varsity 8 raced next. Our boat had a good warm-up and we were confident heading up to the start. After the first few strokes, we were already at Skidmore's 2-seat and we kept walking from there. After crossing the line (32 seconds ahead of Skidmore!), excitement and laughter filled the boat, with all nine of us satisfied with the race and proud of the hard work we've put in over the last five weeks.

The men's second varsity 8 won its race next, crossing the line 20 seconds ahead of Skidmore. The women's 4 had a solid race as well, missing first place by just half a second. Overall, it was a very solid first day of racing!

After the races, the teams headed back to the hotel to warm up and have some lunch. Today is Heather's 21st birthday and we were greeted by a delicious edible arrangement sent by her parents (thanks Mom & Dad!). Later this afternoon, we will head back to the venue for another row. With one successful race under our belts, we can't wait to make some more improvements this week and get back on the course next weekend!