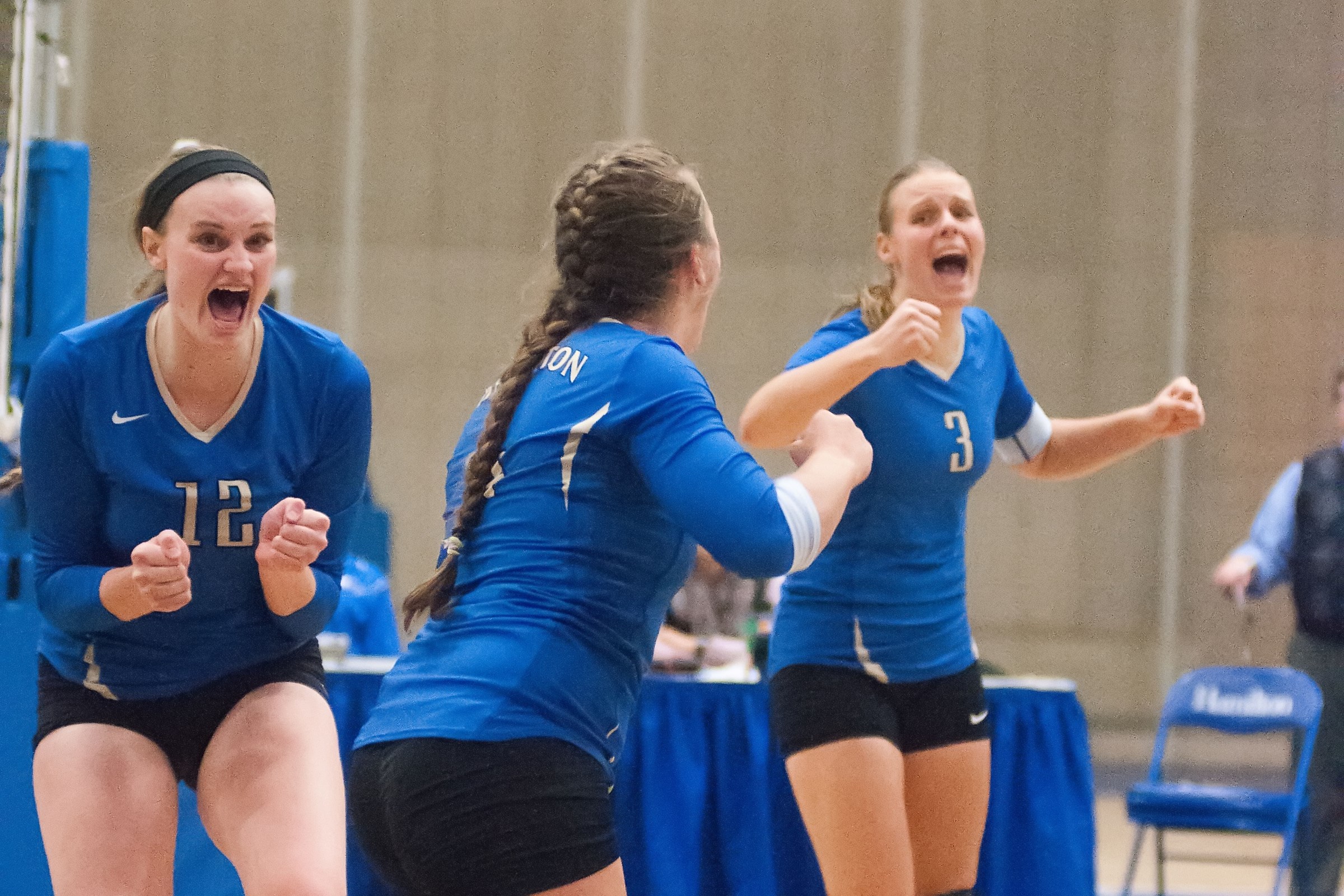 Last year the Hamilton College volleyball team won 10 of their first 13 matches and finished with a 15-12 record, including 4-6 in the NESCAC. The Continentals capped 2014 with their first appearance in the NESCAC Championship quarterfinals.

In the quarterfinals at Tufts University, seventh-seeded Hamilton dropped the first two sets against No. 2 seed Williams College. The Continentals rebounded and won the next two sets before they were edged in a tense, deciding fifth set by a 15-12 score. Despite the outcome, the match proved the team could compete with anyone in the conference.

The six returning letter winners carry those beliefs and that confidence into 2015.

Defensive specialist Jamie Granskie '16 is the lone senior on the roster. Granskie played in all but one match last year and she owns the second-highest dig total out of all returning players with 141 in 2014.

6-foot, 1-inch middle hitters Jessica Weston '17 and Margaret O'Brien '18 played in all 27 matches and Weston didn't miss a single set. Weston tied for seventh in the NESCAC with a .286 hitting percentage and led the team with 245 kills and 50 aces. She was second on the squad with 80 blocks. O'Brien led the team and ranked second in the conference with 1.17 blocks per set (118 total) and amassed 174 kills in her rookie season.

Outside hitters Erin Donahue '18 and Courtney Brown '18 enjoyed fine first years as well. Donahue hammered 151 kills and Brown paced Hamilton with 2.35 kills per set (162 total). Brown was selected the Eastern College Athletic Conference Division III New England Region's Rookie of the Week on Oct. 15.

The Continentals are in good hands at the setter position with Kyndal Burdin '18, who wound up fifth in the NESCAC with 8.16 assists per set a year ago. Burdin did a little bit of everything in her first year as she added 36 aces, 241 digs and 38 blocks in 101 sets played.

On their way to the postseason appearance a year ago, the Continentals enjoyed a number of outstanding performances. The team earned a share of the SUNY Oswego Tournament title, defeated Trinity College for the first time in conference play, posted their first win against Middlebury College since 1995 and celebrated the program's first NESCAC Defensive Player of the Year selection. In conference play, the Continentals ranked No. 1 in total digs, second in digs per set and third in total blocks.