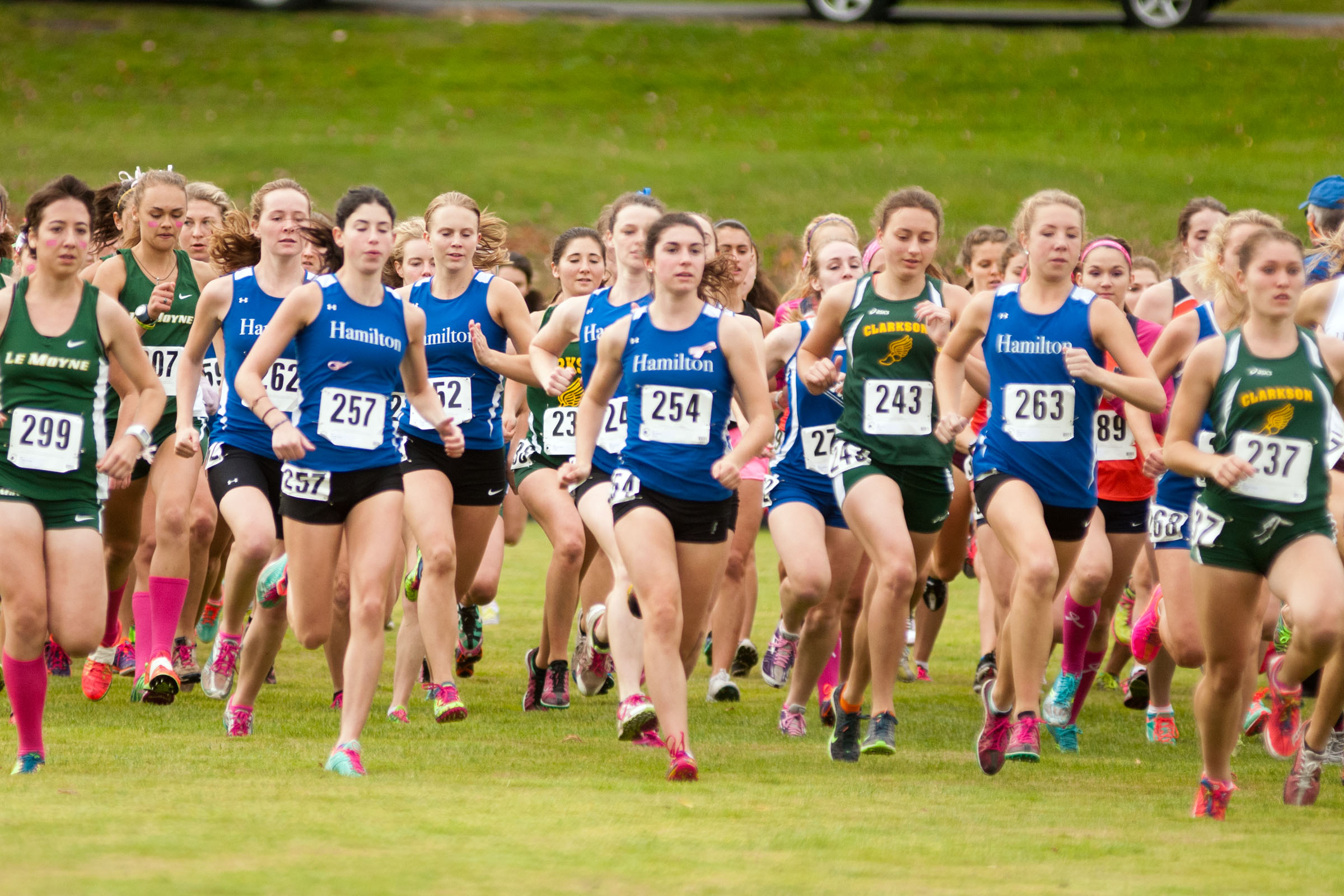 Two-time all-region team honoree Lainie Smith '16, who ran in the 2014 NCAA Division III Cross Country Championships, leads the Hamilton College women into 2015.

Smith enjoyed a fantastic junior year in 2014 when she recorded five finishes in the top 10 and was in the top 15 in all but one race. She was on the New York State Collegiate Track Conference (NYSCTC) All-Conference first team after she took third place in the championship meet and made the NESCAC All-Conference first team for taking seventh place in the conference championship.

At the 2014 Atlantic Regional Championship, Smith finished in 13th place out of 272 runners and earned all-region honors with a personal-record time of 22:01.5 on the 6-kilometer course. She ended up 117th out of 275 competitors at the national meet the following week, and that performance should provide her some incentive to do even better things this fall.

Other top returners for head coach Ellen Hull's squad include Michelle Fish '17, Hanna Jerome '18, Lindsay Heyer '17, Elizabeth Perry '18, Alex Reading '16 and Samantha Buttrick '17. Heyer made the NYSCTC all-conference team after she finished 20th in the 2014 championship race and Buttrick was on the 2013 NYSCTC all-conference team.

Smith, Jerome, Fish and Heyer are all in the top 14 for fastest times by a Hamilton runner on her home 5-kilometer course. Smith is in second place on that list for her time of 17:24.9, which is just 4.2 seconds off the program record set by Maggie Hanson '02 in 2001, in last October's Hamilton Invitational. Smith was selected the NYSCTC Female Runner of the Week for that performance.

Buttrick, Heyer, Smith, Lilly Pieper '18 and Catherine Weppler '18 are the returning athletes who ran at the 2014 regionals. The Continentals were 13th out of 40 teams at the Atlantic Regional Championships.

Jerome and Heyer are coming off solid years with the track and field team. Jerome competed in the 800-meter run at the 2015 Eastern College Athletic Conference (ECAC) Outdoor Track & Field Championships and both athletes collected ECAC all-conference team honors based on their performance at the indoor championships. Jerome earned hers for the 3,200-meter relay and the 1,000-meter run, and Heyer was fifth in the 5,000-meter run.

Hamilton hosts its own invitational and the NYSCTC Championships in October. The Continentals also travel to the Saratoga, University of Rochester Yellowjacket and SUNY Geneseo Invitationals. Wesleyan University hosts the NESCAC Championships, the regional meet is at Letchworth State Park in western New York and the NCAA Championships are at Lake Breeze Golf Course in Winneconne, Wisconsin.