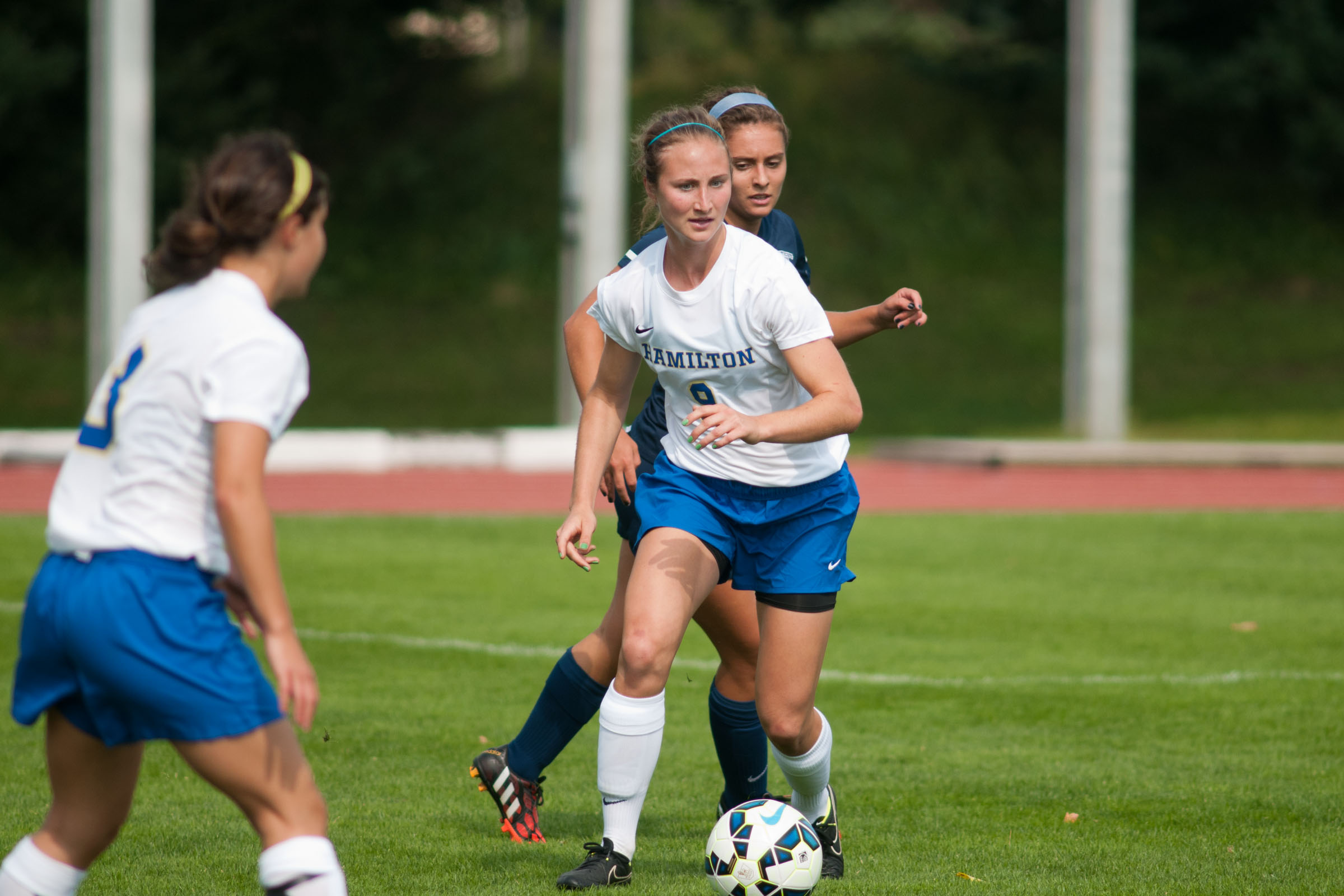 A quartet of three-year starters lead the Hamilton College Continentals into this season as the program aims to return to the NESCAC championship quarterfinals for the first time since 2012.

Hamilton finished 2014 ranked second in the NESCAC with 2.40 goals per game, and the Continentals boasted a 6-2-0 record in September. The team was still 8-3-0 overall and 3-3 in the conference after a win against Bowdoin College on Oct. 11, but dropped the last four games of the regular season.

Hamilton kicks off the 2015 schedule at last year's NCAA Division III championship runner-up Williams College on Sept. 8. That game is also the 500th in program history. The Continentals' home opener is against Bates College on Sept. 12. Other conference games at Love Field include: Wesleyan University (Oct. 3) and Tufts University (Oct. 4) during Fallcoming, Amherst College (Oct. 10) and finally Colby College (Oct. 24) on Family Weekend.

Ten starters return from last year's roster, including Becca Rees '16. Rees was credited with three assists in 2014 and is just outside the program's top five list for most career helpers with 11.

The other three-year starters are back Emily Foley '16 and midfielders Victoria Freeman '16 and Hannah Withiam '16. Foley was one of 12 players that scored at least one goal last year. Freeman chipped in three goals and one assist and Withiam added four assists.

Katja Dunlap '18 (6 goals-3 assists-15 points) led the team in points and ended up ninth in the NESCAC in goals per game. Classmate Katie Kreider '18 (6-1-13) was sixth in the conference in goals per game as a rookie.

Ali Clarke '17 (2-5-9) led the team with five assists and was third in the conference in assists per game. Amanda Becker '18 (3-2-8) was one of four first-year starters in 2014, Kate Whiston '18 (2-1-5) played in nine games and Darby Philbrick '18 (2-0-4) saw action in 11.

Bea Blackwell '17 started all 15 games in the back and Morgan Fletcher '17 was a starter 12 times. Foley suffered an injury in last year's Bowdoin win and may not be ready for the start of this season.

Head coach Colette Gilligan broke in a pair of first-year goalkeepers last season. Rachel Cooley '18 emerged as the No. 1 option and started 11 games in net. Emily Dumont '18 started four games in late September and early October when Cooley was out with an injury. Dumont posted a perfect 4-0-0 record and owned a save percentage of .800 in 382-plus minutes.

The offensive contributions of graduated seniors Halle Becker '15 -- Amanda's older sister -- and Rachel Hirsch '15 will be missed. Becker (5-4-14) was second on the team in points last year and Hirsch (4-3-11) was fourth.