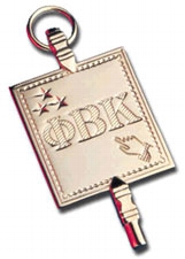 Thirty Hamilton seniors were elected to the Epsilon chapter of Phi Beta Kappa, the nation's oldest honor society, at the May meeting.
The inductees are Peter Bresnan, Erin Casey, Hannah Chappell, Krystina Choinski, Benjamin Conley, Lisbeth DaBramo, Alyssa DiCosmo, Allison Goodman,Emily Grund, Rujun Han,Jessica Harper, McKenna Kelly, Allison Kerper, Katie Jickling, Samantha Levy, Cailtin Lomazzo, Sarah Mandel, Ian Matthews, Sophie Mayeux, Adrian Ophals, Sandhya Rao, Sirianna Santacrose, Samuel Reynolds, Eren Shultz, Kiana Sosa, Ashleigh Stephan, Andrew Szatkowski, Mary Thede, Wynn Van Dusen and Dominic Veconi.
They join 10 students elected in October and 13 elected in February.
Phi Beta Kappa is the oldest and most prestigious honor society in the country. Students are elected to membership in recognition of their exceptional academic achievement in fulfilling the goals and purposes of the College.