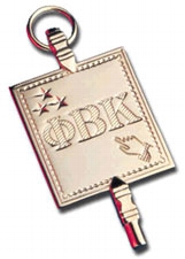 Thirty-one Hamilton seniors were elected to the Epsilon chapter of Phi Beta Kappa, the nation's oldest honor society, on May 22.
The inductees are Julian L. Aronowitz, Julia Grace Brimelow, Andrea T. Bucciarelli, Bianca Buonaguro, Minou A. Clark, Margaret L. Doolin, Catherine M. Gold, Laura J. Herlihy, Rebecca L. Hole, Charlotte M. Hough, John P. Kennedy, Alexander O. Kerman, Leah S. Kramer, Lauren E. Lanzotti, Nicole LaPan, Emma R. Laperruque, Caitlin M. O'Connor, Sarah L. Ohanesian, Kristine C. Oren, Grace D. Parker Zielinski, Carson D. Potter, Katherine L. Rogers, Sarah M. Sgro, Katherine T. Stein, Peter W. Talpey, Mackenzie A. Theobald, Madeline M. Umscheid, Kina M. Viola, Quan Wan, Kaitlyn E. Weinert-Stein and Maggie S. Whalen.
They join 22 other students from Hamilton's class of 2014 previously elected to Phi Beta Kappa, the most prestigious honor society in the country. Students are elected to membership in recognition of their exceptional academic achievement in fulfilling the goals and purposes of the college.