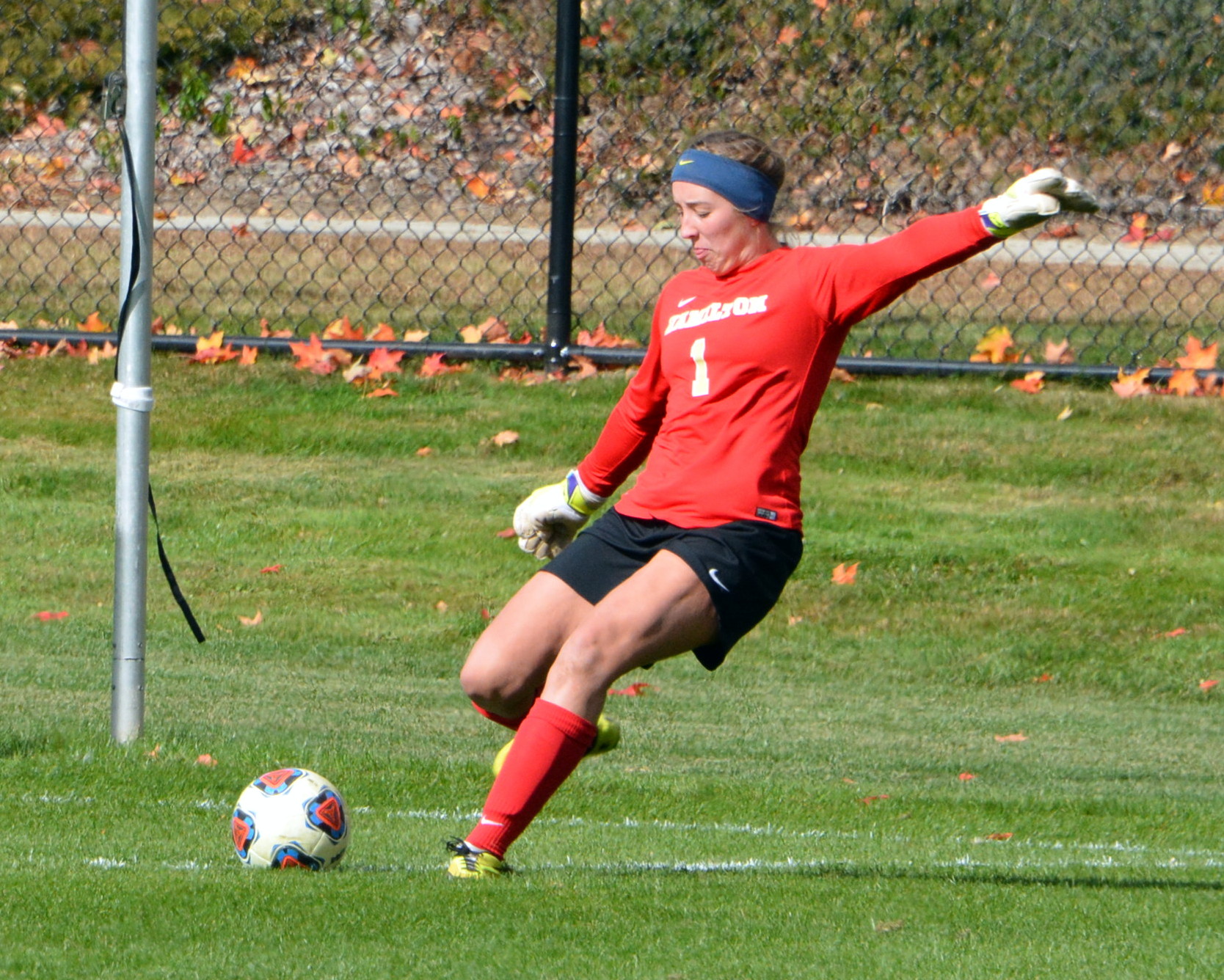 The Hamilton College women's soccer team closed out the regular season with a 4-0 non-conference win over visiting SUNY Oswego in a driving rainstorm Wednesday at Hamilton's Campus Road Athletic Complex.

Box score

The Continentals head to the postseason with a record of 7-5-3 – their best mark since 2012. Hamilton outshot the Lakers (8-8-1 overall) 20-4 and didn't allow a scoring opportunity during the first half.

The shutout was Hamilton's sixth of the season, marking the program's highest total since the 2010 team blanked seven opponents. All six have come in the last 10 games; the Continentals are 7-1-2 in that span (the only loss came in overtime) and have outscored their opponents 31-6 while outshooting them by an average of 21-7.

Goalkeepers Rachel Cooley '18 and Emily Dumont '18 – who've combined for a 0.57 goals-against average and a save percentage of .829 over the last 10 contests – shared Wednesday's shutout. Dumont made three saves in the second half.

Hamilton's three leading scorers each picked up their sixth goal of the season. Ali Clarke '17 opened the scoring in the 25th minute, taking advantage of a counterattack begun by Katie McKillop '19. McKillop played a ball to Amanda Becker '18 just short of midfield and Clarke ran down Becker's long pass down the left side and sent a high shot into the net from about 25 yards out.

Darby Philbrick '18 and Katie Kreider '18 both scored on rebounds of their own shots to account for Hamilton's second-half scoring. Nine minutes into the period, Philbrick corralled a ball that Oswego goalkeeper Melissa Siegfried came out to play, gaining control behind Siegfried and scoring into the open net.

Kreider closed out the scoring late in regulation, carrying a pass to the top right corner of the box, where Alyssa Glasshagel – who replaced Siegfried in the 59th minute – came out to stuff her initial shot. The rebound came directly to Kreider between Glasshagel and the empty net.

Hannah Withiam '16 notched Hamilton's second goal following one of the Continentals' five corner kicks. Becca Rees '16 sent the kick to the far post where Withiam volleyed it into the net for her second goal of the fall.

The Continentals open the postseason on Saturday at 11 a.m., traveling to Williams for the quarterfinal round of the NESCAC Championship. The top-seeded Ephs, who are coming off their first loss of the season (a 2-0 defeat at Middlebury Tuesday), are ranked fourth in the latest national coaches' poll. The teams opened the 2015 season in Williamstown, Mass., as well; Williams (then ranked second) eked out a 1-0 win with a goal minutes into the second half. A Hamilton win would send the eighth-seeded Continentals to the semifinals against the highest remaining seed.