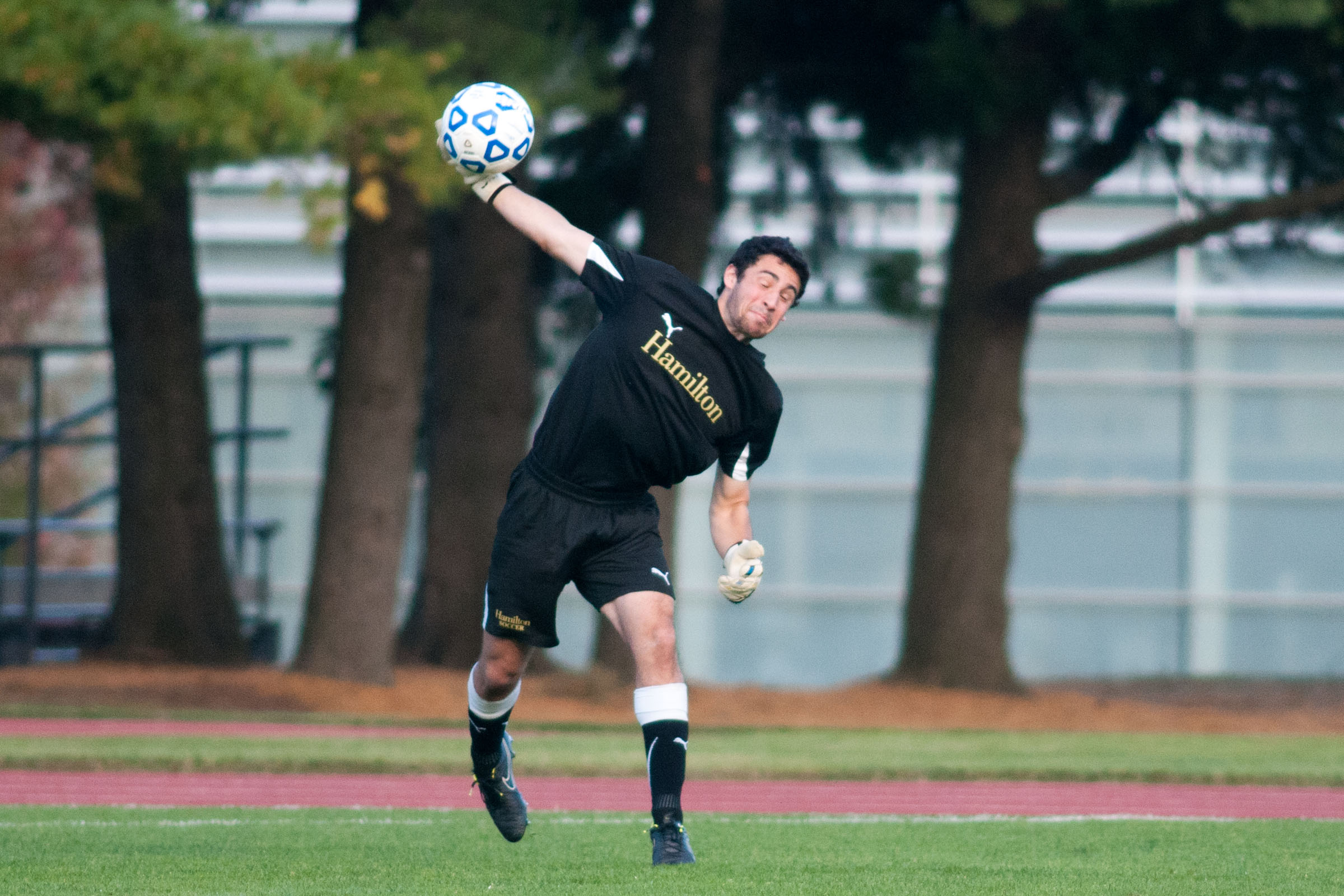 The Hamilton College men's soccer team closed out the non-conference portion of its schedule with a 1-0 loss to nationally ranked No. 4 SUNY Oneonta on Tuesday afternoon at Hamilton's Love Field.

Box score

The Red Dragons are one of three unbeaten teams in the nation at 13-0-2. Despite the loss, the Continentals (5-6-2) finished with a 4-1-0 non-conference record – their best since 2010.

The Red Dragons, who were outshot 14-7 (including a 7-1 margin in the first half), scored the game's only goal off a set piece in the 64th minute. Following a Hamilton foul, Dylan Williams '16 played a free kick to the far post where Jared Van Brunt '16 headed the ball across the face of the goal to Hans Purtell '17, who scored his sixth goal of the season. Williams' assist was his team-leading sixth.

The Continentals had two opportunities at the tying goal in the final two minutes. Hamilton was awarded a free kick outside the box with 1:58 left in regulation but the Red Dragons blocked a shot taken by Dan Kraynak '15. Just under a minute later Zach Young '15 sent a cross from left to right where a charging Alec Talsania '17 was unable to get a solid shot away.

Vincent Pellegrino '15, who entered the game ranked sixth nationally in goals-against average, made six saves to record his seventh shutout of the season. He made a diving save of a waist-high Kraynak shot just inside the left post 12:37 into the second half. Pellegrino also made a diving save of a long shot by Kraynak that skidded across the wet field early in the first period and dove to stymie Jacob Frost '15, who had taken a cross from John McGuinnis '16 late in the first.

The Red Dragons nearly took the lead five minutes into the second half when Addison Straub '15 sent a shot across the net from left to right that Hamilton's Zach Becker '16 cleared off the line. Seven minutes later, Van Brunt headed a Cory Santangelo '18 corner kick into the bottom of the crossbar. Their best chance at extending their lead came in the 70th minute when Matthew Matteo '16 hit the left post.

Hamilton's Harris Pollack '17 was credited with one save, coming out of the net to stuff Purtell on a breakaway.

The Continentals make their final road trip of the regular season on Saturday, Oct. 25, playing a 2:30 p.m. NESCAC game at Tufts University. The Red Dragons host Fredonia on Friday.