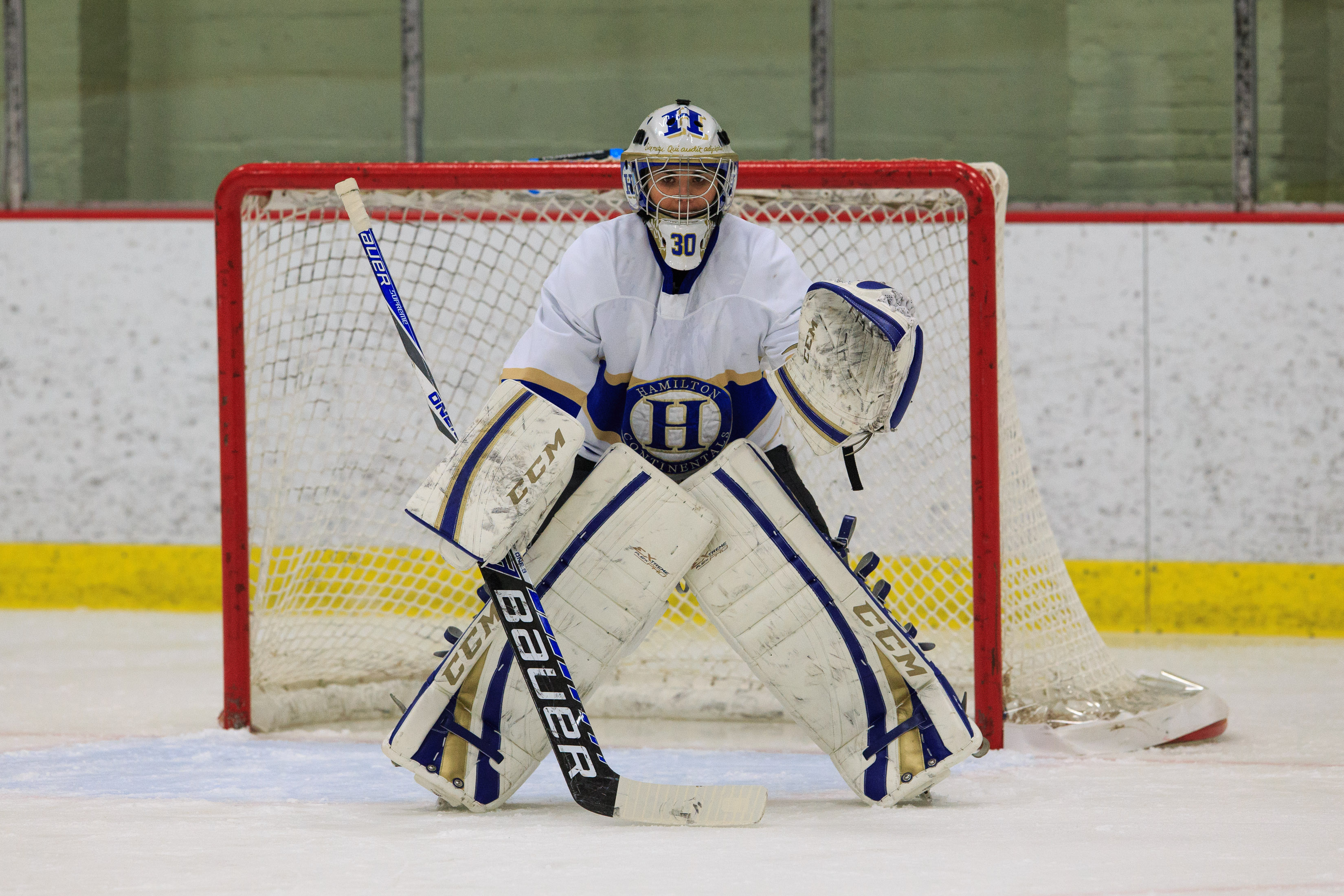 The Hamilton College women's hockey team ended its season in record-setting fashion, losing 3-2 to nationally ranked No. 3 Middlebury College in the quarterfinals of the NESCAC Championship on Saturday.

Box score

The longest NESCAC tournament game ever, it lasted 126:35 over four overtimes. Hamilton's Sam Walther '18 made a school and NESCAC-record 80 saves.

The eighth-seeded Continentals (10-11-4 overall) rallied from a 2-0 deficit after the top-seeded Panthers scored twice in the first 4:14 of the first period. Walther and the rest of the Continental defense stymied Middlebury's next 80 shots before Emily Fluke '15 scored a power-play goal to send the Panthers to next weekend's NESCAC semifinals.

Walther's 80 saves are the fifth-highest single-game total for Division III women's hockey as well as an NCAA record for a postseason game. She broke Hamilton's previous single-game record of 63, set by Caitlin Connelly '07 in a NESCAC quarterfinal at Bowdoin College on March 5, 2005.

Jessica Young '18 scored Middlebury's first two goals, connecting on her 15th goal of the season 52 seconds into the period and adding a power-play goal at the 4:14 mark.

The Panthers (19-3-3) were held scoreless over their next six power plays – including three during overtime – before Fluke ended the game with her 18th goal of the season. Fluke had assisted on the opening goal. Carly Watson '17 and Hannah Bielawski '15 picked up their 15th and 13th assists, respectively, on the game winner.

Katie Parkman '17 had a hand in both Hamilton goals. She put the Continentals on the board 2:38 into the second with her team-leading 10th goal of the year, then assisted on the tying goal with 11:52 left in the third. Teal Gosselin '17 scored her sixth goal of the winter to knot the score with Sara Taffe '17 picking up her eighth assist of the year on the play. Elana Van Arnam '17 picked up her first collegiate point, assisting on Parkman's goal.

Madeline Marsh '15 stopped 31 shots for the Panthers, who outshot the visiting Continentals 83-33.

The game was the longest ever for Hamilton by about 50 minutes (Hamilton and Bowdoin's 2005 NESCAC quarterfinal went 76:32).

Walther improved her goals-against average to 1.76 and her save percentage to .937, setting school single-season records in both categories.

The stretch of 122:21 between Middlebury's second and third goals marked the third-longest scoreless streak ever recorded by the Continentals.

Hamilton was making the program's 13th NESCAC playoff appearance in the past 14 years. The Continentals set single-season team records with five shutouts, a 1.57 goals-against average and a save percentage of .939.