9th Annual Hamilton Fall Fest in Clinton is Oct. 24
---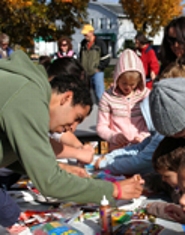 The 9th Annual Hamilton College Fall Fest will take place on Sunday, Oct. 24, from noon to 4 p.m., on the Clinton Village Green. Fall Fest is an initiative that was started in 2002 by the Hamilton Class of 2005 to improve town/gown relations by uniting the Hamilton and Clinton communities for an afternoon of food, fun, and entertainment.
Organized by the Social Traditions Committee of the Hamilton College Student Assembly, campus organizations and societies come together to coordinate a wide variety of games and activities for children, ranging from face painting to making trick-or-treat bags. Fall Fest is free and open to the public.
There will be live music and entertainment provided by Hamilton's musical a cappella groups, student bands and performance groups. Food and fall favorites like Cider Mill donuts will also be offered. The Clinton Fire Department will unveil its new ladder fire truck and will be hosting a chicken barbecue that day, so everyone is invited to come for Fall Fest and stay for dinner.