A Glimpse into the Gay Black World
---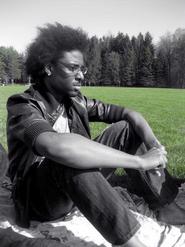 Edgy, scary, stylish, sinful: gay culture is viewed in different ways by different communities in the United States. But for black men in the LGBTQQI community, their doubly marginalized status creates tensions in all of the communities to which they belong. Working with Associate Professor of Africana Studies Angel Nieves, Randall Mason '11 is using his Emerson grant to investigate the lives of black gay men.

Mason was inspired by Jennie Livingston's famous documentary, Paris Is Burning. Filmed in the late 1980s in New York, Livingston captured on film the underground ball culture (from which voguing became most famous), which was dominated by black and Latino men. "I want to do this project because [Livingston] did her field work, got the credit and forgot about her subjects," Mason said. "I want to go back and treat them not as subjects but as people. I want to get their story as to how they identify themselves as opposed to how they're identified."

But a lot has changed since the late 80s, and the ball culture has come out from the underground. Instead of focusing on gay black men in the underground, Mason is interviewing "gay-lebrities," or gay celebrities, to hear about some of the challenges they have faced. He has talked with ex-basketballer DeMarco Majors, actor Dwight Allen O'Neal, and rapper Bry'Nt. Although these gay-lebrities are in different professions and from different parts of the country, Mason is most interested in asking: which community has been the most hostile to you?

Anyone in the LGBTQQI community can talk of their alienation from mainstream "hetero" culture; the language, lifestyle, gender roles, and identity politics create a distinct culture of the LGBTQQI community. But for a LGBTQQI black man, feelings of marginalization are doubled. "Within the internally-displaced African diaspora is another diaspora that isn't really talked about," Mason said. "[Members of the] African diaspora are looking for a place they belong, and the gay subgroup is looking for its place in Black America as well as in society in general." Studying the history of black male sexuality and turning to authors such as E. Patrick Johnson and E. Lynn Harris to give him a context of black gay America, Mason is beginning to see racial differences even within the LGBTQQI community. Many of these differences are embodied in the LGBTQQI organizations that center upon different racial groups, creating dissonance within the community.

One of the most divisive forces between gay and straight subcultures within the black community is the church. For example, a feud has been raging between Donnie McClurklin, a pastor who was "delivered" from homosexuality, and Tonex, gay singer/producer who records gospel music. The community's reactions have varied widely, but homophobic voices are still loud within the black community, especially coming from the church.

To help men who feel lost because of their extreme marginalization, Mason will also compile a list of organizations, web sites, books, and movies that cater to gay black men. One such organization is GMAD (Gay Men of African Descent), located in Brooklyn, which Mason has visited to find scholarship. "There are plenty of organizations like that but how they're advertised is different from the white LGBTQQI organizations," Mason said. Although hundreds of organizations exist, some are more successful than others. But they all represent a movement to support black gay men who feel "isolated, invisible and alone."

Mason has also received additional guidance from Associate Professor of Philosophy Todd Franklin and Associate Professor of History Chad Williams.

Mason is a graduate of Proctor High School in Utica, N.Y.