A.P. Saunders Tree Peony Fest and Hamilton Bicentennial Celebration
---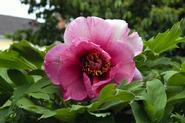 In observance of the 200th anniversary of Hamilton College's founding, the Hamilton College Arboretum Association will host the A.P. Saunders Tree Peony Fest on Saturday, May 26, from 10 a.m. to noon, in Grant Garden of the Root Glen. The community is invited to see the Saunders peonies at their peak and stroll the shaded paths of Root Glen.

This event is free and open to the public and sponsored by the College and its Arboretum Association.

Arboretum Director Terry Hawkridge and Lead Horticulturist Dan Rouillier will present a seminar on A.P. Saunders' hybridization of his world class peonies on College Hill from 1920-1940. The horticulture of peonies will be covered from hybridization to harvesting blooms. Professor John O'Neill, co-chair of the Hamilton Bicentennial Committee, will say a few words about the signing of the College Charter on May 26, 1812. Cake and light refreshments will be served. Root Glen tree and garden tours will conclude the festivities.

Please meet at the blue and white striped tent behind the Elihu Root House (College Hill Road) near the entrance to Grant Garden.