A Summer in the Slush Pile
---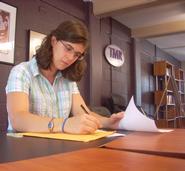 For Olivia Wolfgang-Smith '11, the "slush pile" of unsolicited manuscripts is only barely a metaphor. Working at the literary magazine The Missouri Review, Wolfgang-Smith pores over 30 manuscripts per week, evaluating their quality. With an Emerson grant and guidance from Associate Professor of English Tina Hall, Wolfgang-Smith is learning the production process of a highly-respected literary magazine.

Located at the University of Missouri in Columbia, The Missouri Review (TMR) publishes all types of writing including poetry, fiction, essays, author interviews, reviews, and "found-text" features, which are previously unpublished works or letters by now-famous authors. A double major in Russian studies and creative writing, Wolfgang-Smith is fascinated by the process of submission, editing and eventual publication that takes place at a literary journal. As the rising editor of Hamilton's literary magazine Red Weather, Wolfgang-Smith knew she could apply her experiences from the large scale of TMR to the smaller scale at Hamilton, and possibly in her post-graduation career.

But gaining this insight requires Wolfgang-Smith to trudge through quite a bit of "slush." "The title of my project comes from the 'slush pile'—literary slang for unsolicited manuscripts sent directly to a publisher or journal for consideration, without representation by a literary agent. TMR receives around 12,000 unsolicited submissions every year, which makes for quite a sizable 'slush pile,'" she said. Wolfgang-Smith spends her days reading fiction manuscripts and evaluating their quality; "I evaluate the submissions by reading for prose quality, plot, structure, plausibility, cohesiveness, focus and many other variables—in essence it's the same kind of evaluation that happens every day at Hamilton in creative writing workshops or the Writing Center," she said.

As the first reader for almost every fiction piece, Wolfgang-Smith is armed with a powerful weapon in the trenches of the slush pile: her rejection slips. "I end up sending rejection slips to most of the authors after the initial reading, on which I include feedback on their piece(s) and a few words of encouragement," she said. If she thinks a piece has promise, she will pass it to another fiction reader or editor, who can then choose to pass it along again or send it back to Wolfgang-Smith with an explanation for why it should be rejected. A piece that is continually passed will eventually end up on the desk of TMR's head editor, Speer Morgan, who has the final say.

Doing her initial read-through, Wolfgang-Smith identifies some problems that may be easy to fix, and others that may not be. "Manuscripts with really skillful prose and natural dialogue tend to have more promise for me, because it is easier to fix the problem of a too-lengthy opening section (by cutting unnecessary passages) than that of clunky writing throughout the story," she said. But even pieces with promise will incur the wrath of the dreaded red pen: "Virtually every piece that TMR accepts will undergo significant edits before publication. According to Evelyn Rogers, TMR's associate editor, there have only been two pieces in the last 32 years that came in more or less ready for publication," Wolfgang-Smith said.

Some of her other duties at TMR include establishing an online anthology of works that TMR has already published and supplementary material for readers and educators. Wolfgang-Smith has also added to her own portfolio by working with TMR, contributing non-fiction content to the journal's blog, such as her interview with essayist Tom Ireland. But the greatest education she is gaining from her internship is learning the ins and outs of publishing a well-known literary journal—"from manuscript editing to choosing a theme for a given issue to graphic design and layout," Wolfgang-Smith said.

Upon returning to Hamilton for her senior year, Wolfgang-Smith will do a presentation about literary magazine publication to Red Weather staff, English and creative writing majors and any interested parties. Despite the daunting odds of being published in a magazine as prestigious as TMR, Wolfgang-Smith says she feels more inspired to submit her work after her time there: "Even with the low odds of acceptance at a journal like TMR, not submitting at all has an even lesser chance of success," she said.

Wolfgang-Smith is a graduate of Ponaganset High School in North Scituate, R.I.