A Work in Progress
---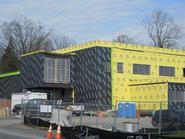 The Ruth and Elmer Wellin Museum of Art is taking shape and on schedule for opening in fall 2012.

A $10 million lead gift from Wendy and Keith Wellin '50 enabled construction to begin for a three-building arts complex on the corner of Griffin and College Hill Roads.

Steve Bellona, associate vice president for facilities & planning, provided an update on the museum's progress. He said the roof and exterior wall air-water vapor system are being installed now and work on electrical and mechanical system rough-ins, including duct-work, are continuing.
"We anticipate that the exterior block installation on the west side of the building will begin in early April," said Bellona, "and the terra-cotta on the center archive hall exterior commencing in early May. Completion is scheduled for early August with opening at the October Fallcoming."

The 30,000-square-foot museum and teaching facility is one of a number of new arts facilities that will be constructed on the west side of campus as part of Hamilton's $117 million Bicentennial Initiatives campaign. In addition to the museum, the arts center will feature a theatre complex and a studio arts building.

The building is named in honor of Wellin's parents, and is hoped to function as a "creative 'teaching laboratory' where students ask questions, make connections to disciplines beyond the arts and develop visual literacy skills."

The first floor of the museum will feature a large exhibition space and an archive hall, which will provide access for students and faculty to a major portion of the Hamilton collection. The second floor will hold several offices, a student lounge overlooking the sculpture courtyard on the north terrace, and a 48-seat classroom tailored to the needs of courses in film study.