Abigail Martin '14 Named Hamilton's 34th GOLD Scholar
---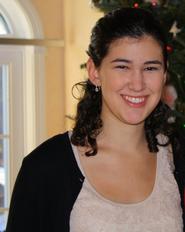 Name: Abigail Martin
Nickname: Abby
Hometown: Litchfield, Conn.
High School: Litchfield High School
Intended Major: Biology
Campus activities: DEAR at Clinton Elementary, Students for International Public Health Awareness, Face AIDS, Alternative Spring Break, Study Buddies

Last Movie Seen in Theaters: The King's Speech
Favorite Movie: Slumdog Millionaire
Favorite Song: Yellow by Coldplay
Favorite Place you've Lived on Campus: Dunham
Last Book Read: The Girl with the Dragon Tattoo by Stieg Larsson
Favorite Book: Atonement by Ian McEwan
Hobbies/Interests: Volunteering, movies, reading, traveling, photography, being outdoors, spending time with friends and family

Favorite Place on Campus: I love to be anywhere outdoors when the weather is nice, especially in the fall. If I had to choose my favorite academic building, it would be the Science Center because of all the great study spaces and Opus 2.

Favorite Campus Dining Location: McEwen. I love the food and the atmosphere.

Fondest Hamilton Memory To-Date: Arriving on campus for pre-orientation to people excitedly waving signs, jumping, and shouting is definitely an experience I'll always remember. Also, meeting my three freshman year roommates for the first time was a defining moment of my college experience.

Favorite Quote: "Education is the most powerful weapon which you can use to change the world." – Nelson Mandela
What was high school like? What were your favorite activities? Who inspired you?
High school was busy and challenging, yet very rewarding in the end. Since my school was on the smaller side, with about 100 students per grade, I formed very strong bonds with my peers and teachers over the years. My favorite activities included volunteering in the community, running a club associated with the non-profit organization Invisible Children, and crew (rowing) in the fall and spring. Between school, crew practice, and homework for AP classes, it seemed as though there weren't enough hours in the day. Looking back, though, I see that the difficulty of my coursework and the expectations of my teachers prepared me for the academic rigor I would encounter at Hamilton. Many individuals inspired me throughout high school, but my Anatomy & Physiology and Embryology teacher, Mr. Fowler, was especially encouraging and enthusiastic inside and outside of the classroom, helping to confirm my interest in science and medicine.

How did you discover Hamilton?
I believe that I first discovered Hamilton when I began sorting through the piles of mail I had received from various liberal arts colleges across the east coast. I remember that Hamilton's brochure caught my interest with its written pieces by various students and beautiful images of the campus. The brochure led me to Hamilton's website, where I gained more knowledge of the academics and campus life. Hamilton's open curriculum definitely set it apart from other liberal arts schools I was looking at, so my family and I decided to add it to the list of schools to visit. I fell in the love with the college after a great tour that really made me feel as though Hamilton could be my second home. A few months later at Accepted Students Day, I made my decision that Hamilton would be the perfect place to spend my next four years. I have never regretted my choice!

What were your first impressions of the College? Do you find they're still true today?
I was first impressed by the beauty of the campus and the quality of the facilities. Since I knew I wanted to be pre-med, I found the Science Center to be especially appealing. The students were also friendly, helpful, and welcoming, and I sensed that they formed a tight-knit community. I can confidently say that these first impressions are still true after my first year on the Hill. Every day I gain more appreciation for the amazing facilities I have access to and the peers I have the privilege of sharing my college experience with.

Have you volunteered as a student? What did you find most rewarding about the experience?
The volunteering opportunities available at Hamilton have significantly influenced my college experience thus far. The program I have found to be most rewarding is HAVOC's DEAR (Drop Everything and Read) Program at Clinton Elementary School. Helping first graders to learn to read and to understand the material that they are given is rewarding because you're able to help a child learn a skill that will be so crucial towards his or her success in school and in life. By visiting the same classroom weekly, it is amazing to see the students' progress and success. It is especially wonderful to see a child who used to struggle a lot with the basic stories progress to a higher level of reading comprehension. Volunteering has proven to be a welcome break after a stressful week and an easy way to make a difference in the community.

What are your plans after Hamilton? Where do you want to live?
After Hamilton, I plan to take a gap year to gain some clinical experience before attending medical school. I hope to attend a medical school somewhere along the east coast in order to stay relatively close to home. Having lived my entire life in the Northeast, it might be a nice change to live somewhere further south for a few years, though! Later in life, I still envision myself living in a small town on the east coast, but I would love to be able to travel more frequently and to experience different cultures, perhaps through a program like Doctors Without Borders.

GOLD Scholars is an initiative supported by the Annual Fund, which has always provided direct support for the College's most important current priorities, especially scholarship aid. Since 2006 gifts from the GOLD Group – Graduates of the Last Decade – specifically support students on campus. With each $15,000 increment collectively contributed, the College will select a student as a GOLD Scholar.


Make your Annual Fund gift in support of GOLD Scholars.
Read about Hamilton's other GOLD Scholars.