Adirondack Park Class Treks North
---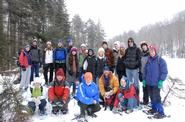 Some Hamilton students got a real taste of the Adirondacks on Feb. 7, as 20 members of Professor Ernest Williams' Cultural and Natural Histories of the Adirondack Park went on a snowshoe trek to Grass Pond in Old Forge, N.Y.

Outfitted with snowshoes by the Hamilton Outing Club and accompanied by Director of Outdoor Leadership Andrew Jillings, students piled into two Jitney vans and drove to a trailhead off of Route 28 in Old Forge. After a 1.5 mile trek that took about an hour, the group ate bagged lunches at Grass Pond, a frozen lake created by a beaver dam.

After hiking back to the vans, the group made a second stop at the general store in the town of Old Forge, an Adirondack village with an economy based almost exclusively on tourism. Hikers and campers who populate the village in the summer months are replaced in the winter by snowmobilers.

The trip is written into the curriculum to give students a first-hand chance to experience the Adirondacks. According to Professor Williams, there is no better way to learn about the Adirondack wilderness than to get out there in the snow and see it personally. It's especially meaningful to be able to see and hear how Old Forge is a snowmobile economy during the snowy months.

In addition to ecotourism, students in Williams' class will spend the semester learning about cultural history, ecology, pollution, environmental conservation, and public and private land use issues in the Adirondack State Park.