Administration & Finance Employees Lend a Hand to Bookshelf Project
---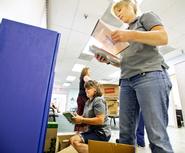 Take a group of Hamilton employees eager to volunteer in the community, put them in a warehouse full of unused books headed for the discard pile, and what has evolved is a Community Bookshelf service project that benefits many local organizations.

In less than a year, a group of Hamilton Administration & Finance employees have helped many local nonprofit organizations by establishing and staffing the Bookshelf project. They choose books from the Mid-York Library System warehouse and then go to host sites to stock their bookshelves. Since last August when the project began, they've distributed 3,000 books throughout Utica and Rome.

The project was initiated by Vice President of Administration and Finance Karen Leach. She appreciated the idea behind Hamilton's annual Martin Luther King Jr. Service Day, when the College releases employees from their work to volunteer on service projects. However, Leach noted that employees in her division have to stay on campus to provide essential services on that day, as the spring semester begins. "At the same time," she said, "some people wanted to be part of contributing to the community in the spirit of that day of service." So Leach asked Director of Outreach and Orientation Amy James if she could come up with an alternative project that would enable her staff to also contribute to the community.

James discovered that the Mid-York Library had a warehouse full of spare books that were available. "They're good, current books that are duplicates from different libraries in the system," Leach explained. As the libraries in the Mid-York System get new books they send some to the warehouse and those are used in the Bookshelf project.

"This project provides the opportunity to contribute to the community in smaller time segments when we can squeeze it in," Leach explained. "The employees who were interested made this happen."

Steve Bellona, associate vice president for facilities & planning, got the bookshelves and Physical Plant staff painted them. Carolee Couture of Physical Plant and Sherri Pavlik of the Business Office coordinate requests from the agencies in Utica and coordinate volunteers to restock books as needed.

"I'm delighted by the success of this project," Leach remarked. "There are 13 bookshelf locations currently being stocked with books. That's a wonderful service to the community. In addition," she observed, "people who don't normally work together have the opportunity to get to know each other as volunteers for the project. That's fun for the volunteers and great for Hamilton," she added.

Leach noted that one challenge is that there aren't enough children's books coming through. "We're looking for reasonable ways to collect more children's books since they're the most popular books for families to take," she explained. "A big emphasis of this project is providing reading materials for kids that they can actually take home with them and keep." Leach asks employees who have children's books that are in good condition and who would like to donate them to the Bookshelf project, to please bring them to campus. The Bookshelf project team will have boxes at the Community Lunch on Wednesdays or employees can leave them in the foyer of the Sadove Student Center anytime.

The Bookshelf project currently has around 30 Hamilton volunteers who go in pairs to deliver books to the locations, including the Salvation Army, Refugee Center, Catholic Charities, UCP and St. Elizabeth's Medical Center, which recently featured Hamilton's project in its newsletter.

Lindsey Hagan, VISTA volunteer in COOP, said the Hamilton volunteers go to the Mid-York Library warehouse, select books based on the site's audience and deliver them to the host sites. "How often volunteers go varies based upon the demand from their assigned site but it's approximately once every two months," she said.
Leach added, "We can always use volunteers to help restock the books and any Hamilton employee is welcome to participate. Interested employees should contact Carolee Couture (ccouture@hamilton.edu) or Sheri Pavlik (spavlik@hamilton.edu) to get their names on the list."