All-Alumni Bicentennial Reunion is May 31-June 3
---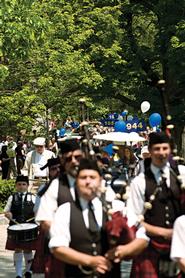 Hamilton's annual reunions take on special significance this year as the college celebrates its bicentennial with an All-Alumni Reunion, May 31-June 3. More than 2000 alumni and their guests are expected. A special welcome is extended to members of the class of 1962 who are celebrating their 50th reunion. A full schedule of events will keep attendees busy all weekend.

A highlight will be the Bicentennial Convocation on Saturday at 10:30 a.m., in Wellin Hall, where Ralph Oman '62, P'04 will deliver the Half-Century Annalist Letter. President Joan Hinde Stewart, Alumni Association President Julie Ross '84, and Chairman of the Board of Trustees A.G. Lafley '69 will give remarks. In addition, the Bell Ringer award will be awarded posthumously to Patricia "Trix" Tolles Smalley P'93, who served for many years as a trustee and devoted member of the Hamilton family. The bicentennial film, Hamilton: The First 200 Years, will also be shown.
Following the convocation the Bagpipes of the Mohawk Valley Frasers will lead the assembly in a parade to a cookout for all on the Dunham Green.
More than 30 Bicentennial Colleges during the weekend will educate and entertain. Among them are:
We the People. Leide Cabral '11 and Hector Acevedo '08, founders of The Young People's Project at Hamilton College, will discuss their work at the intersection of math, race, class and civil rights. Joining them will be Robert Moses '56, civil rights activist and founder of the Algebra Project, who will share his thoughts on establishing a constitutional amendment to affirm quality education as a constitutional right. Friday, June 1, 3 pm., Bradford Auditorium, KJ.
The Arab Spring and the Victory of Islamic Politics. A year and a half after changes in Tunisia and Egypt, it is time to take stock and question whether a true revolution has taken place. Edward Walker '62, the Christian A. Johnson Distinguished Professor of Global Political Theory and former U.S. ambassador to Egypt, Israel and United Arab Emirates, will discuss implications for American foreign policy and our interests and allies in the region. Friday, June 1, 3 p.m., Red Pit, KJ.
To Them That's Gone Film Screening. Conceived and produced by Hamilton alumni, this documentary commemorates the 4,000-mile cross-country run organized in honor of Michael Cleary '03 and all the soldiers who lost their lives during Operation Iraqi Freedom. Friday, June 1, 8 p.m., Wellin Hall (also 2 p.m. on Saturday in Kennedy Auditorium, Taylor Science Center).
Multiple Impressions Workshop. Two professors, Bruce Muirhead and William Salzillo, and two alumni, Amy Buchholz '80 and Jake Muirhead '86, will guide participants in creating their own dry point prints. With or without experience, alumni will have the opportunity to "spend a little time in the studio, make art, learn a bit about etching, but mostly just have fun," according to Jake Muirhead. Offering this popular program for the second year, this foursome also exhibit their own work regularly and are known as the Atelier Four.
A Life in Politics. U.S. Secretary of Agriculture Tom Vilsack '72 P'00 and Christie Bell Vilsack, K'72, P'00, a 2012 candidate for U.S. representative for Iowa's 4th congressional district, will share insights from their lives in public office. Tom served two terms as governor of Iowa and Christie worked to raise awareness of issues around literacy. Saturday, June 2, 2 p.m., Chapel.
On Saturday evening attendees can enjoy a performance of World-Class Jazz, featuring bassist/vocalist Nicki Parrot in the Fillius Events Barn, and a Saturday Night Dance party: The Return of the Rogue, in Soper Hall of Commons.
Also during the weekend, alumni will celebrate at class dinners, hold class meetings and participate in a Service of Remembrance for deceased classmates.