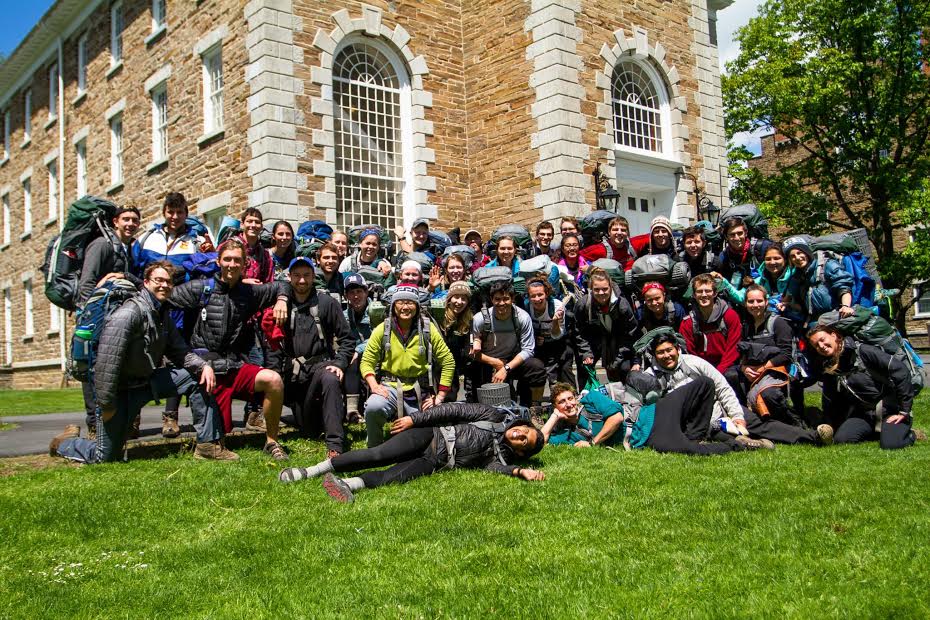 While the Class of 2015 spent Senior Week celebrating their achievements and impending graduation, a dedicated group of students spent their time training in preparation to lead for Hamilton's three new-student orientation programs: Adirondack Adventure, Outreach Adventure, and Exploration Adventure.
Starting this coming year, all incoming students will be required to take part in a five-day, four-night orientation trip in small groups with other new students. Led by two upperclassmen leaders, these trips will be centered on a shared experience and aim to introduce students to other members of their class and form bonds that will hopefully persist throughout their time at Hamilton. Prior to leading a trip, all leaders undergo extensive training in the technical and interpersonal skills necessary to lead a safe, successful trip.
Training for new leaders as well as any returning leaders who wish to attend takes place over Senior Week at the end of the academic year in May. Additional training for all leaders assigned to trips takes place in August in the days before orientation begins.
Leaders from all three programs spent the first day of training getting to know each other, playing and learning large group games, and taking part in several information lessons covering topics such as empathy, group management and risk management. The next day the three programs split off and began training specific to their particular focus.
Exploration Adventure (XA)
Exploration Adventure (XA) is the newest orientation program that will be offered to incoming first-year students. Trips will explore a particular theme through visits to several sites and activities coordinated by the leaders as well as by faculty advisors. Kate Brouns '17, the student intern responsible for coordinating and planning XA, described the breadth of XA: "Trips will cover everything from theater and history to music and yoga." Since orientation trips are mandatory this year, it becomes especially crucial to provide a broad range of options and so "with XA we hope to ensure that there are trips that will interest everyone" said Brouns.
After the on-campus portion of training, XA left Clinton and camped for two nights at Cayuga State Park in the Finger Lakes where they practiced some of the basic camping skills that leaders will need when their trip is camping at a campground. During the day the leaders visited a number of sites that will be a part of the trips being offered.
Brouns said of the site visits, "Since XA covers so many topics, we tried to do a sampling of different trips and give leaders a sense of the organizations that they might be asked to work with. We visited the Syracuse Center of Excellence (a think tank focused on environmentally conscious design and building practices), the Women's Rights National Historical Park in Seneca Falls, and the Montezuma Wildlife Refuge." At night the leaders returned to their campsites and talked about their site visits and took part in discussions on problem-solving, managing conflict, small group dynamics and the purpose of XA.
Looking back on training Brouns commented, "It was a crazy week because it was the first time it had ever been run. Tessa Chefalo (Coordinator of Orientation and First-Year Programs and head of XA) deserves a lot of credit for ensuring that everything went well and I think that it was definitely successful in preparing leaders for their trips in August and getting them excited about the program."
Outreach Adventure (OA)
Outreach Adventure (OA) is Hamilton's community service-focused orientation program. During OA students will serve with many different organizations doing activities that may include building homes, working on a community farm, stocking the shelves at a food bank, or even working with children at a summer program.
Following the on-campus training, OA traveled into Utica where the leaders took part in several different service projects with the goal of familiarizing them with the kind of trips they may lead and work they may do in the fall. Amy James, Director of Community Outreach and the head of OA, described the projects. "For every service site there is a new leader pair and we make sure that we cycle through all of the new leaders so they can get a sense of what it will be like in the fall," she said.
While in Utica, the leaders camped in a church, using it as their base. After every day of service they returned to the church where they discussed broader topics such as leadership styles as well as the finer details of the projects that they did that day, problems that may have arisen, and ways that such issues could be resolved on a trip.
In addition to the service projects and leadership discussions, the leaders had lunch with Dean of Students Nancy Thompson and toured Utica with Professor of History Doug Ambrose. "One of our really big goals for leader training is not just training the leaders but helping them to understand Utica overall and some of the issues that we are dealing with so that they can pitch in when they get back and educate the younger students and hopefully inspire them to pitch in and help the community for the rest of their time at Hamilton," commented James on the importance of learning about Utica.
James summed up the purpose of training in one sentence –"if our leaders understand why they're doing the work they're doing and enjoy it, then that will trickle down to the participants and they will enjoy it as well."
Adirondack Adventure (AA)
Adirondack Adventure (AA) is Hamilton's outdoor orientation program. On an AA trip, small groups of students and led by two upperclassmen spend orientation hiking, canoeing, sea kayaking, rock climbing, or even bicycling throughout the wilderness areas of New York.
AA split off after the on-campus training and spent three nights camping in the Rogers Glen. Madison Atterbury '17, one of two student interns responsible for AA, described training. "The leaders did a lot of hard skill development at first, learning how to set up tents and cook over camping stoves etc., and then transitioned into talking about group management and soft skills such as communication and conflict resolution," she said. Dan Snyder '17, also a student intern, added, "this time helps the new leaders develop their outdoor skills and gives the returning leaders a chance to refine their skills as well as to practice teaching."
In addition to preparing the leaders to lead their trips, training serves to bring the leaders together into a cohesive group of friends. "It created a close-knit community of leaders which is important because they can then rely on one another throughout their time leading, their time at Hamilton, and even beyond," said Atterbury. This network of leaders benefits incoming students as well as Snyder noted, "I now know what all the leaders do on-campus so if a student on my trip is interested in a particular activity, I can direct her to a leader who is involved in that activity and will be a friendly, welcoming face in that articular part of campus."
At the end of the week all three programs came back together to talk about what they had learned, hear about what would happen between now and August, and share their excitement for the coming trips. OA, XA, and some of the returning AA leaders then left campus while the new AA leaders spent another day in water training, preparing them to lead canoe trips.
With training over until August, the student interns from each program will remain on campus. "We spend the summer putting together groups, putting incoming students on trips, pairing leaders to lead those trips, answering questions, and generally preparing fro the logistics of sending trips out in August," Atterbury explained. In August, the leaders will return to campus several days before the incoming students arrive. These days will be filled by training activities designed to create a working relationship between co-leaders as well as logistical work in preparation for the students' arrival.
In the meantime as the interns prepare, the majority of leaders are scattered throughout the country working summer jobs, internships, or traveling and eagerly anticipating their return to campus in August.
Snyder concluded, "Being a leader is a job that continues past the end of the trip and includes supporting students throughout the fall and into the rest of their time at Hamilton," a sentiment that is undoubtedly shared by the administrators and student leaders of all three programs.