American Realist Painter Vincent Desiderio to Lecture
---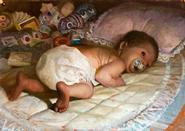 American realist painter Vincent Desiderio will speak at Hamilton on Wednesday, Feb. 9, at 4:15 p.m., in the Bradford Auditorium, Kirner-Johnson Building. His lecture is sponsored by the Art Department's Visiting Artists series and it is free and open to the public.
Desiderio is currently the senior critic at the New York Academy of Art. His paintings and drawings have been exhibited widely, most recently in solo exhibitions at the Marlborough Gallery in New York.
He is a recipient of a Pollock-Krasner Foundation Grant, two National Endowment for the Arts Grants, the Everson Museum of Art Purchase Prize, a Rome Grant from the Creative Artists Network and a Cresson Traveling Scholarship from the Pennsylvania Academy of the Fine Arts. In 1996, Desiderio became the first American artist to receive the International Contemporary Art Prize awarded by the Prince Pierre Foundation of the Principality of Monaco.
Many of Desiderio's paintings are triptychs, multiple splices of a moment played out in three differing venues. Figures are often lying in the most human of positions—a father sleeping on his side, a man squatting before a window, a woman propping her head up with her hand. The paintings are narratives, sometimes allegorical, sometimes intriguing and engaging as if they were ripped from a pictorial novel.
His works are also included in the collections of the Metropolitan Museum of Art, the Denver Art Museum, the Everson Museum of Art in Syracuse, New York, Galerie Sammlung Ludwig in Aachen, Germany, the Greenville County Museum of Art in South Carolina and the Indiana University Museum of Art in Indiana, Pa.