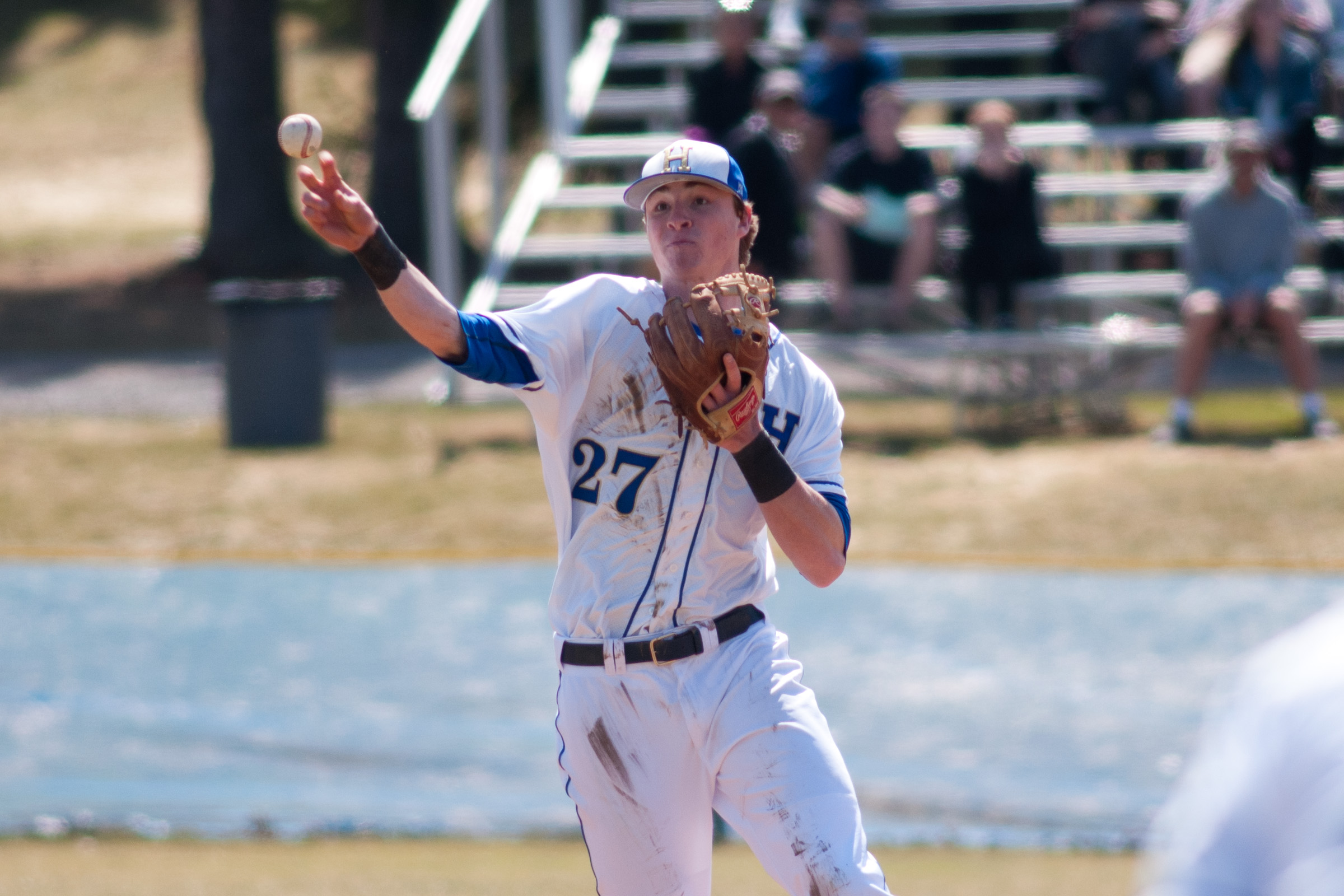 The Hamilton College baseball team dropped a 5-3 decision to visiting Amherst College on Friday afternoon in the opener of a three-game NESCAC West Division weekend series. The game marked the first time the Continentals (10-7, 2-2 NESCAC West) have played at their home facility of Royce Field all season.

Box score

The Lord Jeffs, who won for the ninth time in 10 games, broke a 3-3 tie with a pair of fifth-inning runs and held on as the Continentals put five runners on over their last five at bats. Hamilton put the tying runs in scoring position in the eighth and brought the tying run to the plate in the ninth.

Joe Jensen '15 singled with one out in the eighth and one out later Kenny Collins '17 drew a two-out walk. After both runners stole a base, Amherst's Mike Castiglie '17 induced a pop-up to get out of the jam.

Brett Mele '17 reached on an infield error to lead off the bottom of the ninth but Castiglie needed just six pitches to retire the side and earn his first save of the season.

Hamilton tied the game with three second-inning runs after the high-scoring Lord Jeffs (Amherst entered the game ranked second nationally in scoring) took a 3-0 lead in their first two times at bat.

Ryan Wolfsberg '17 and Dean Rosenberg '18 hit back-to-back solo home runs with two outs to pull the Continentals to within a run before David Rose '16 fought out of an 0-2 hole to drill a double deep to center field. Rose scored the tying run on a base hit by Zach Becker '16.

The Lord Jeffs (15-7, 7-0 NESCAC West) put two of their first three batters on base on a lead-off single by Harry Roberson '18 and a one-out infield error that allowed Mike Odenwaelder '16 to reach base. A double by Yanni Thanopoulos '17 and a single by Conner Gunn gave Amherst a 2-0 lead. The visitors scored another unearned run in the second when Anthony Spina '17 reached on an error and moved to third on a bunt and a wild pitch before Roberson's run-scoring groundout.

Becker finished with two of Hamilton's six hits. Thanopoulos and Roberson had two hits apiece for Amherst.

Keenan Szulik '16 struck out 13 batters in 7.1 innings to earn the win, allowing six hits and a walk to improve to 4-1. Castiglie retired five of the six hitters he faced in 1.2 hitless innings.

The teams are back in action on Saturday, April 18, with their doubleheader scheduled to begin at noon.