Hamilton Arboretum to Host Lecture on Kitchen and Dooryard Gardens
---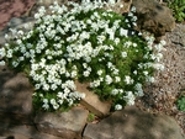 The Hamilton College Arboretum Association will present a workshop on Kitchen and Dooryard Gardens on Saturday, Oct. 12, at 10 a.m., in the Kennedy Auditorium of the Taylor Science Center at Hamilton. This event is free, open to the public and sponsored by the College and its Arboretum Association.
The lecture will be presented by Christie Higginbottom, a garden research historian who has worked for many years at Old Sturbridge Village in Sturbridge, Mass. She will discuss kitchen and dooryard gardens of rural New England, including historically documented plant varieties and garden practices. She will then jump forward a century and talk about kitchen gardens with tips from the past for the modern gardener.
Higginbottom has worked as a costumed interpreter at Old Sturbridge Village in Sturbridge, Mass., since 1981. She researched, planned and planted the re-created kitchen and flower gardens at the museum's historic households. Higginbottom also supervised the Village's Herb Garden collection, a garden exhibiting more than 300 varieties of historic herbs.
Higginbottom writes and consults on historic gardens and lectures at museums and historic sites. Venues have included the Thomas Jefferson Center for Historic Plants at Monticello, and the Society for the Preservation of New England Antiquities