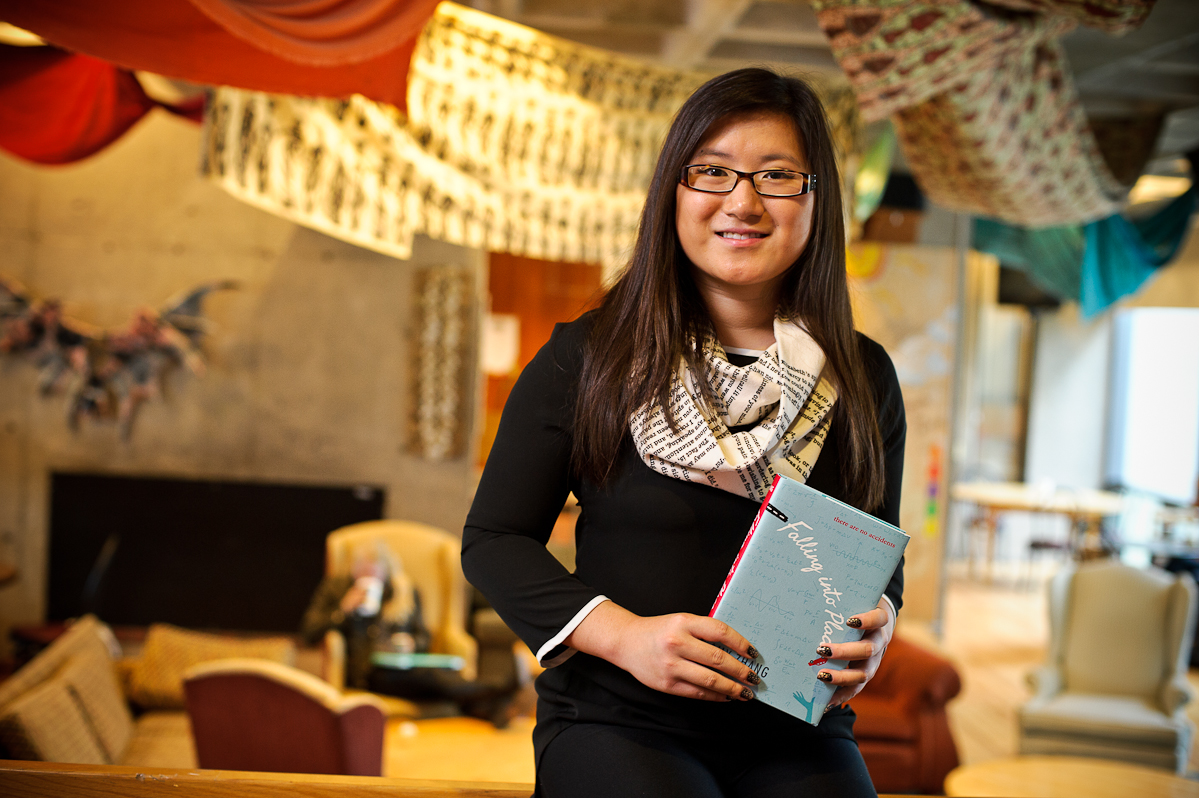 Last year at this time (Heqing) Amy Zhang '18 was a senior at Sheboygan Falls High School in Wisconsin. Little did she know then that a piece she wrote for a high school English assignment would within less than a year become a young-adult novel. Falling Into Place was published by Harper Collins in September.
Zhang recounted her whirlwind journey to becoming a published author. "This particular project began as two short stories, one of which I wrote as an English assignment. I wrote the short story knowing that I wanted to later develop it into a novel-length work," she explained. "The second was more of a piece of flash fiction that I wrote for pleasure, the narrator of which became the narrator of Falling into Place."
Zhang wrote the first draft during National Novel Writing Month (November) and finished it within the month." I sent it to my agent shortly after," she said, "and we revised for a month or two before she sent it on submissions and it sold. I went through several rounds of revisions with my editor as well."
Getting her novel sold was not difficult, Zhang said. She is represented by Emily Keyes of Foreword Literary Agency. "I queried her without telling her how old I was, and when she offered representation and I finally confessed, she rolled with it," Zhang recalled. "She's just phenomenal—I don't know how I would have survived this process without her."
During her first semester at Hamilton Zhang took Chaucer: Gender & Genre, Conversations in Hispanic Culture, Classic Mythology, and Intro to Sculpture. She was also in a tennis class and took piano lessons. She described how she managed to balance her first semester of college with the obligations of becoming a new author.
"Mostly, it was just a matter of prioritizing--sometimes, writing just had to come before school, or vice versa," Zhang remarked. "The marketing and publicity teams were absolutely incredible through it all, and my publisher is very understanding of the situation, so overall, it's a fantastic experience."
Zhang is currently under contract for two more novels. She provided a hint about the one she's working on now, tentatively titled This is Where the World Ends. "It's about a boy obsessed with apocalypses and a girl whose goal in life is to make the entire world fall in love with her. There's spray paint and a coffee shop full of origami cranes and wings, and it's set to publish in fall 2015." Zhang said she is currently working on revisions to that book.
Over winter break Zhang will spend part of her time doing more book signings for Falling Into Place.