Annual Public Speaking Competition is March 3
---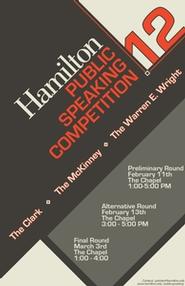 Hamilton's 2012 Public Speaking Competition will take place on Saturday, March 3, from 1-4 p.m. in the Chapel. In this annual event students will compete for three different prizes: The McKinney Prize, The Clark Prize and The Warren E. Wright Prize.
The McKinney Prize is awarded to one student from each class for a 5-8 minute persuasive speech that is socially relevant and of interest to the extended Hamilton College community. Students competing for this prize and their topics follow.

From the Class of 2012: Clare Browne, "Does Obesity Merit a Government Policy Response?"; Xiaohan Du, "Turn Off the Light When You Leave a Room"; and Daniel Savage, "Citizens United's Threat to Our Democracy."

Class of 2013 finalists are: Eric Benvenuti, "It's Not in the Cards: The Social Costs of Online Gambling"; Kip Langat, "Changing The World, Hamilton's Collective Responsibility"; and, Chip Sinton, "The Beautiful Fact of Being Human: Prismatic Identity, Social Media and the Importance of Transitional Pioneers."

Finalists from the Class of 2014 are Neil Edwards, "Children in Poverty: A Need to Restore Educational Motivation"; Tyler Morris, "Local Living that Keeps on Giving"; and Max Schnidman, "Protecting the Internet from Smooth Criminals."

Class of 2015 finalists are Sandy Rao, "Speaking to the Heart"; Jose Vazquez, "Giving a Child the DREAM"; and Samantha Sherman, "The Media: A Powerful and Degrading Force."

In the Clark Prize competition, students will address the topic "Attracting Attention – Persuasive Issues for 18-25 year-olds in the 2012 U.S. Presidential Election." Clark Prize competition is open to all members of the senior class. Finalists are Woodger Faugas and Leonard Teng.

The Wright Prize is awarded to a student who has taken or is currently enrolled in the college public speaking course, Rhetorical Act. Speeches are to focus in a thoughtful, deliberate manner on a current issue of social significance, be informative in nature and be supported by appropriate and factual information.

The 2012 finalists and their topics are James Crafa '12, "Bullying: Not Just Kids Being Kids; Jennifer Keefe '12, "Dry Campus: College Students Who Abstain from Alcohol; Ephraim McDowell '12, "Mass Incarceration: The American Prison Boom and Its Effects; and Leo Nizzi '14, "Pledging is Positive Peer Pressure.
Final Competition judges are: Hamilton Trustee Julia Cowles '84, attorney and partner, Davis Polk & Wardwell; Barbara Britt-Hysell, coordinator, ESOL program; J. K. Hage '72, Hage & Hage Law and Consulting; Jon Hysell, executive director, annual giving and alumni relations; Susan Jasko, professor of communication studies, California University of Pennsylvania; Anne Lacsamana, chair and Associate professor of women's studies; Professor of English Vincent Odamtten; Abby Taylor, associate director, employer relations, Career Center; and Vice President and Dean of Students Nancy Thompson.