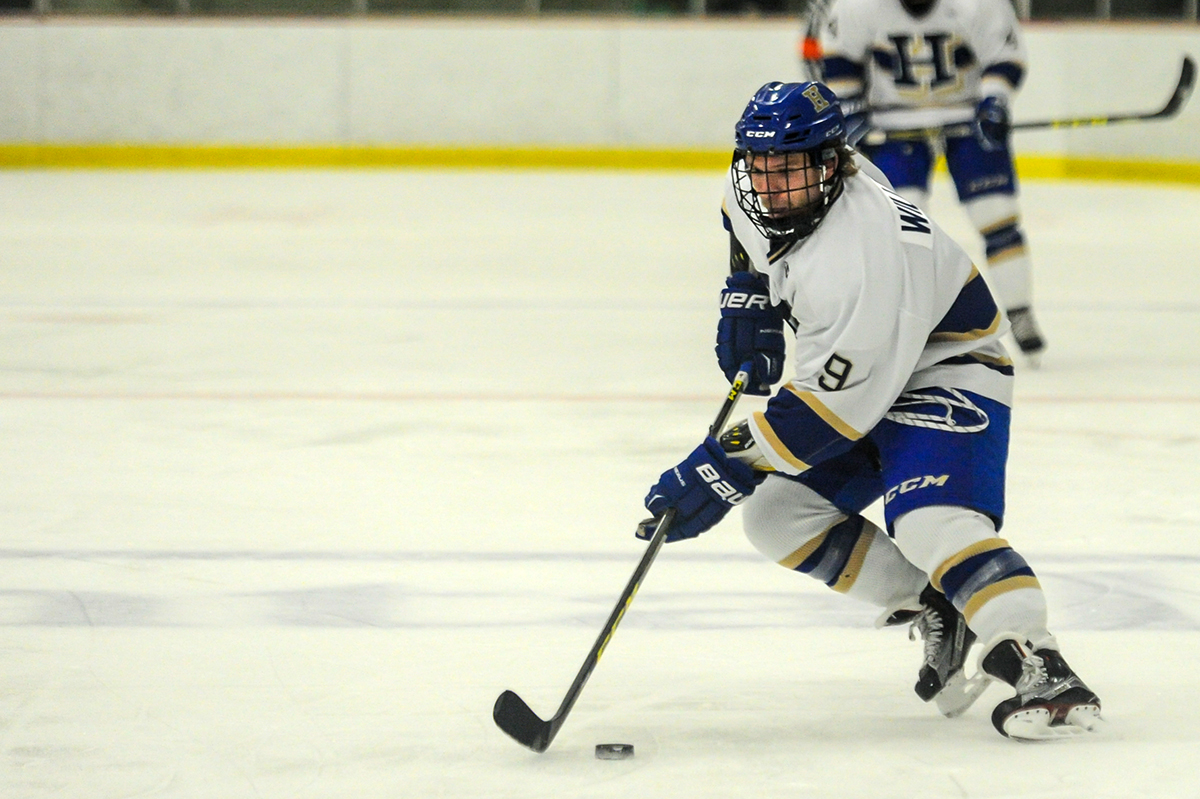 The Hamilton College men's hockey team pulled away late for a 7-1 NESCAC win at Colby Friday in Waterville, Maine. The Continentals improved to 7-3-1, the program's best start since the 2003-04 team opened 8-3-1.

Box score

The Continentals (3-2-1 NESCAC) stretched their unbeaten streak to six games (5-0-1) – the fifth-longest current stretch in Division III and the program's longest since the 2010-11 team closed the regular season on a 6-0-2 run.

A total of 12 players reached the scoring column, with seven Continentals collecting a goal in one game for the first time since Jan. 29, 2011.

Brandon Willett '18 and Truman Landowski '17 both scored late in the second period as Hamilton turned a 2-1 lead that had stood for most of the period into a 4-1 advantage heading into the second intermission.

Willett and Landowski both finished with a goal and an assist, along with Neil Conway '18, who assisted on Willett's goal and scored the game-winning goal 1:59 into the second period. Brad Smelstor '17 and Bennett Hambrook '17 assisted on Conway's game winner, which put the Continentals up 2-1.

Colby (4-5-3, 2-4-1) spoiled the Hamilton shutout less than a minute later, with Devin Albert converting a pass from Nick O'Connor to cut the Hamilton lead in half.

After Willett and Landowski closed the second period with goals Jason Brochu '19 added to the lead 1:45 into the third. Jon Stickel '19 was credited with the first of his two assists on the play.

The Continental special teams excelled as Hamilton's penalty kill unit remained atop Division III's rankings and Kenny Matheson '16 and Rory Gagnon '19 scored power-play goals midway through the final period.

Landowski and Conor Lamberti '17 set up Matheson for a 5-on-3 goal 18 seconds into a two-man advantage. A minute and 40 seconds later the Continentals took advantage of the second part of the power play, with Stickel assisting on Gagnon's second goal of the season.

Hamilton stonewalled all three Colby power-play tries; the Continentals' penalty killers have allowed just two goals in 44 opportunities for a Division III-best 95.5 percent success rate.

Xavier Morin '17 opened the scoring with 6:06 left in the first, with Seamus O'Neill '17 assisting on the play.

Evan Buitenhuis '18 turned aside 25 of 26 shots, improving his save percentage to .961 and his goals-against average to 1.36. He ranks second and third, respectively, in the nation.

Hamilton has allowed just three goals over the last four games, marking the lowest-scoring four-game stretch since the 1989-90 season.

The Continentals conclude their weekend NESCAC road swing with a 3 p.m. game at Bowdoin on Saturday, Jan. 9.