Chisels, GPS and a Sledgehammer - Packing for an Antarctic Island Trip
---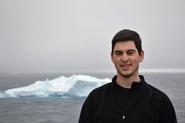 What does one pack for a trip to an Antarctic island? Items not found on a typical packing checklist, as some Hamilton students learned this week when they prepared for an expedition to Robertson Island. It's week two of the Antarctica 2012 research expedition, aboard the U.S. Antarctic Program ship Nathaniel B. Palmer for Natalie Elking '12, Manique Talaia-Murray '12, Andrew Seraichick '13, Elizabeth Bucceri '11 and Associate Professor of Biology Mike McCormick.

The Hamiltonians are part of an international science research team spending six weeks in Antarctica through the LARISSA project (LARsen Ice Shelf System, Antarctica), part of the National Science Foundation's Antarctic Integrated Systems Science (AISS) department. The project was initiated in 2007 in response to the collapse of the Larsen B Ice Shelf in 2002. The group left on March 7 and will return on April 15.

Read the students' blog posts about the biology team's expedition to Robertson Island on the Antarctic Peninsula this week.