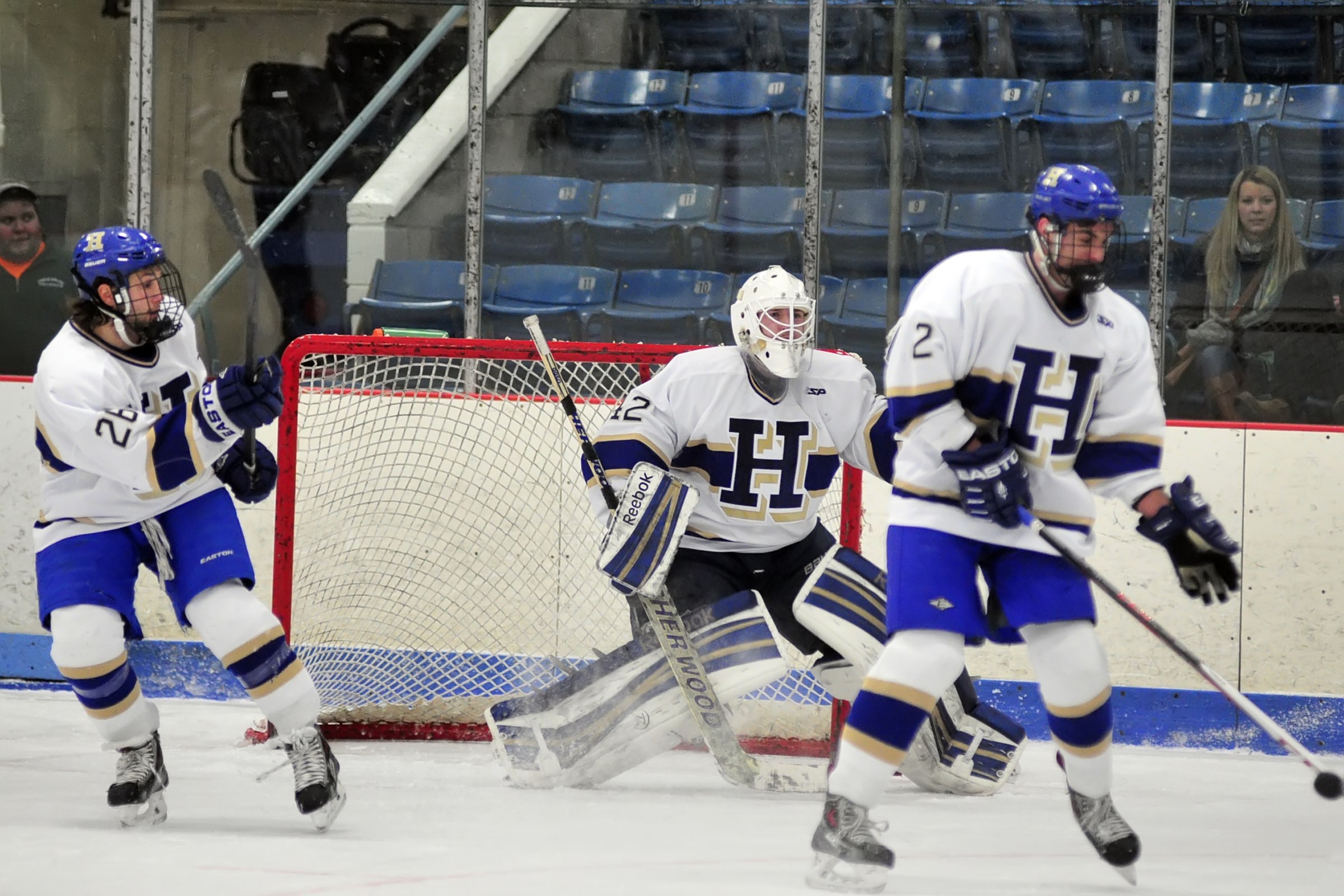 The Hamilton College men's hockey team played nationally ranked No. 8 UMass Boston to a 1-1 tie in Monday's consolation game of the Beacons' Codfish Bowl Tournament.

Box score

The Beacons (10-1-1 overall) entered the 50th annual playing of the nation's second-oldest collegiate hockey tournament as one of three unbeaten and untied teams in Division III.

Playing just outside his hometown of Concord, Mass., Zach Arnold '15 made a career-high 41 saves and held the Beacons, who entered the game averaging 5.2 goals per game (third nationally), to one goal. Arnold, who stopped a pair of shots in the opening seconds of overtime, was named to the all-tournament team. Eight of his saves came during Beacon power plays.

T.J. Daigler '18 opened the scoring with his second goal of the season, scoring off a pass from Scott Vazquez '16 to give the Continentals a 1-0 lead 3:05 into the second period. Vazquez and Conor Lamberti '17 recorded their second assists of the year. Daigler beat Beacon goaltender Billy Faust '16 just inside the far post after executing a toe-drag to beat a defender. Lamberti fed Vazquez, who broke through the neutral zone and found a charging Daigler.

The Beacons, who were upset by Connecticut College in Sunday's opening round, tied the score 6:17 later on a power-play goal by Peter MacIntyre '16. Stephen Buco '15 and Michael Kuhn '15 had the assists. Buco and Kuhn rank seventh and ninth, respectively, among the national assist leaders.

MacIntyre's fourth goal of the season came on a third chance for the Beacons. Arnold made a point-blank save off a Kuhn shot, then stopped Buco on the rebound before MacIntyre's high shot ended the Beacons' season-long scoreless streak of 81:43. Buco had nearly put UMass Boston on top eight minutes into the first period but Arnold made a glove save on his breakaway.

Arnold stopped 18 third-period shots (the hosts outshot Hamilton 18-3 in the period) to send the game into overtime. UMass Boston's best chance at a win in regulation came late in the third when Lamberti blocked a McIntyre shot that would have gone in the net.

In the final minute of the extra session, Faust made a pair of point-blank saves to preserve the tie. He just got a piece of a shot from the point that Truman Landowski '17 deflected, then he covered up Vazquez' backhander from the edge of the crease.

The Continentals (3-4-3) remained unbeaten in their last four meetings with the Beacons and lead the all-time series, 16-3-1.

Hamilton returns to Sage Rink on Friday, Jan. 9, to open a four-game NESCAC homestand with a 7 p.m. game against No. 11 Bowdoin College. UMass Boston plays at top-ranked Norwich on Friday night.