Artist Art Spiegelman, Pulitzer Prize-Winning Author of Maus, to Lecture
---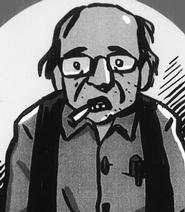 Art Spiegelman, professional comics' artist and illustrator and Pulitzer Prize winner, will deliver the Winton Tolles Lecture at Hamilton College on Monday, April 23, at 8 p.m., in Wellin Hall. The lecture is part of Hamilton's spring 2012 Humanities Forum on Translation and Cultural Exchange and is free and open to the public.

In his lecture, "What the %@&*! Happened to Comics?" Spiegelman takes his audience on a tour through the history of comic illustration, emphasizing the value of the medium and arguing for its place in contemporary culture. Comics, Spiegelman predicts, are on the rise in the post-literate culture because their depictions of iconic images more closely than prose resemble the ways that our brain works.

In 1992, he won the Pulitzer Prize for his Holocaust narrative Maus— which portrayed Jews as mice and Nazis as cats. Maus II continued the remarkable story of his parents' survival of the Nazi regime and their lives later in America.

Spiegelman studied cartooning in high school and began drawing professionally at age 16. He went on to study art and philosophy at Harpur College before becoming part of the underground comix subculture of the '60s and '70s. As creative consultant for Topps Bubble Gum Co. from 1965-1987, Spiegelman created Wacky Packages, Garbage Pail Kids and other novelty items, and taught history and aesthetics of comics at the School for Visual Arts in New York from 1979-1986. In 2007 he was a Heyman Fellow of the Humanities at Columbia University where he taught a Masters of the Comics seminar.

In 1980, Spiegelman founded RAW, the acclaimed avant-garde comics magazine, with his wife, Françoise Mouly—Maus was originally serialized in the pages of RAW. His work has been published in many periodicals, including The New Yorker, where he was a staff artist and writer from 1993-2003.

A major exhibition of Spiegelman's work was arranged by Los Angeles Museum of Contemporary Art, as part of the "15 Masters of 20th Century Comics" exhibit in 2005. Also that year Spiegelman was named one of Time Magazine's 100 Most Influential People and in 2006 he was named to the Art Director's Club Hall of Fame. He was made a Chevalier de l'Ordre des Arts et des Lettres in France in 2005 and played himself on an episode of "The Simpsons" in 2008.

The Winton Tolles Lecture Series was established in 1991 by members of the Class of 1951 in memory of Winton Tolles, Class of 1928, and dean of the College from 1947 to 1972. It brings to the campus distinguished writers in the fields of literature, journalism and theatre to lecture and meet with students.

The lecture is co-sponsored by the Dean of Faculty, the Yordan Lecture Fund, the Tolles Lecture Fund, and the Creative Writing Department.