Art Students Tour New York Studios of Contemporary Artists
---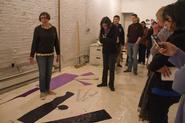 Art students, led by Katharine Kuharic, the Kevin W. Kennedy Associate Professor of Art, traveled to New York City on Feb. 19-21 to tour the studios of respected contemporary artists Polly Apfelbaum, Kurt Kauper, Julie Heffernan, Justine Kurland and Carolee Schneeman.
View a slideshow of the tour here
. (Photos by Greg Huffaker '09)
Polly Apfelbaum is an artist whose paintings are characterized by highly patterned abstraction somewhere between pop art and minimalism and vibrant color schemes. Kurt Kauper is best known for his controversial nude paintings of film-star Cary Grant and his childhood hockey heroes, former Boston Bruins Bobby Orr and Derek Sanderson. Julie Heffernan's paintings have been described by New York Sun art critic David Cohen as "hybrid of genres and styles, mixing allegory, portraiture, history painting, and still life, while in title they are all presented as self portraits."
Justine Kurland is a photographer known for her photographs of people, especially teenage girls and young mothers, in American wilderness landscapes with a strong balance of realism and fantasy. Carolee Schneeman is a multidisciplinary artist who has had success in painting, photography, and performance art. Her work is characterized by research into archaic visual traditions, pleasure wrested from suppressive taboos, the body of the artist in dynamic relationship with the social body.