Artist Trenton Doyle Hancock to Lecture
---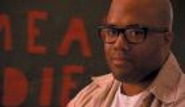 Artist Trenton Doyle Hancock will present a lecture on Wednesday, March 6, at 4:15 p.m., in the Bradford Auditorium, Kirner-Johnson. The lecture is part of the art department's Visiting Artist Series and is free and open to the public.
Hancock earned his bachelor of fine arts from Texas A&M University and his master of fine arts from the Tyler School of Art at Temple University. Hancock's prints, drawings and collaged-felt paintings work together to tell the story of the Mounds—a group of mythical creatures that are the tragic protagonists of the artist's unfolding narrative. Each new work by Hancock is a contribution to the saga of the Mounds, portraying the birth, life, death, afterlife and even dream states of these half-animal, half-plant creatures. Hancock's paintings often rework Biblical stories that he learned as a child from his family and local church community.
Hancock was featured in the 2000 and 2002 Whitney Biennial exhibitions, one of the youngest artists in history to participate in this prestigious survey. His work has been the subject of one-person exhibitions at Contemporary Arts Museum, Houston; Modern Art Museum of Fort Worth; and Museum of Contemporary Art, North Miami. Hancock was included in the American Folk Art Museum's exhibit, "Dargerism," which showed the influence of Henry Darger on contemporary artists. He was also featured on PBS's "Art21" series—a chronicle of contemporary art. Hancock is currently represented in New York by the James Cohan Gallery.