Austin Walker '12 Chosen to Attend Clinton Global Initiative University
---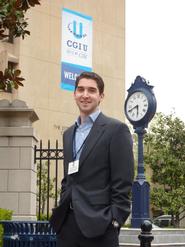 Austin Walker '12 was selected to attend the Clinton Global Initiative University conference held March 30 – April 1 at George Washington University in Washington, D.C.
Walker's acceptance to the conference signified the Clinton Global Initiative's recognition of his commitment to engage youth in rural Kenya with his project, Kenyan Youth Initiatives. Walker plans to begin implementing the project this fall in collaboration with the Lwala Community Alliance.
Kenyan Youth Initiatives is the product of research Walker conducted over the summer of 2011 with support from the Levitt Center. It will empower youth to be the architects of their own development projects. The project holds the philosophy that Kenyan youth hold the greatest understanding of their challenges and how to affectively address them. When questioned and encouraged Kenya's youth population can rise to the challenge of improving their lives and the future of their communities.
While at CGIU Walker attended a number of panel discussions with President Clinton, Madeleine Albright, Usher, Jon Stewart and other accomplished individuals. Walker also presented his summer research as well as his vision for the upcoming project.