Award-winning Playwright Naomi Wallace to Give Tolles Lecture
---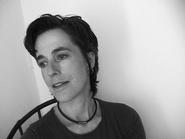 Renowned playwright Naomi Wallace, whose work has garnered critical acclaim internationally, will deliver the Winton Tolles Lecture on Tuesday, Feb. 15, at 7 p.m. in the Hamilton College Chapel. Her talk is titled "Hospitality, Resistance and New Writing for American Theater." The lecture is free and open to the public and will be followed by a reception in the Emerson Gallery.

Wallace's work has been produced in the United States, the United Kingdom, and the Middle East. Her major plays include One Flea Spare, In the Heart of America, Slaughter City, The Trestle at Pope Lick Creek, Things of Dry Hours, The Fever Chart: Three Short Visions of the Middle East, The War Boys and The Inland Sea.Her awards include an NEA grant, the Fellowship of Southern Writers Drama Award, a Kentucky Arts Council grant, a Kentucky Foundation for Women grant, and an Obie Award for best play.
The play One Flea Spare will be produced by La Comédie Francais (the French National Theater) in an upcoming season. Wallace will become the first foreign woman and only the second American playwright, after Tennessee Williams, to be featured by La Comédie Francais. In addition to her accolades as a playwright, Wallace has created two films, Lawn Dogs and The War Boys, and published a book of poetry.

The Tolles Lecture was established in 1991 by members of the class of 1951 in memory of Winton Tolles, class of 1928 and dean of the college from 1947 to 1972. It brings to the Hamilton campus distinguished writers in the fields of literature, journalism and theater to lecture and meet with students.