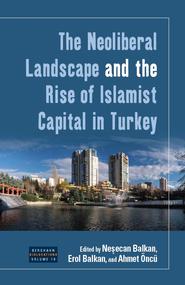 Professor of Economics Erol Balkan was co-editor of a book titled The Neoliberal Landscape and the Rise of Islamist Capital in Turkey, published this month by Berghahn. The book is volume 14 in the series Dislocations.
According to the publisher's description, the book's "contributors analyze the relationship between neoliberalism and the political fortunes of the Islamist Justice and Development Party (AKP), and examine the similarities and differences amongst new factions in the secular and Islamic middle class that have benefited economically, socially, and culturally during the AKP's reign. The articles also investigate the impact of the Gülen Movement and the role of the media in shaping the contours of intra-class struggle within contemporary Turkish political and social life."
Balkan's co-editors were Nesecan Balkan and Ahmet Öncü, professor of sociology at Istanbul's Sabanci University School of Management.