Baseball wins 24th Jackie Robinson Game
---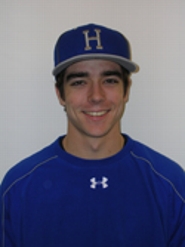 Colin Henneberger '14 threw eight shutout innings to lead Hamilton College to a 4-0 win against Utica College in the 24th playing of the Jackie Robinson Game in non-conference baseball action at Hamilton's Royce Field on April 14.

Henneberger was selected the Continentals' most valuable player as he scattered seven hits, walked one and struck out seven. Alex Zeig '14 pitched a scoreless ninth to seal the victory. It's the team's first shutout since a 7-0 win against SUNY Cobleskill on March 28, 2010.

Hamilton (8-13 overall) extended its win streak to three games -- the Continentals' longest win streak since late March and early April of 2005. Hamilton hosts Amherst College for a New England Small College Athletic Conference West Division game on Friday, April 15.

Utica (2-18) still holds the edge in the Jackie Robinson Game series, 13-11. The shutout is the third in series history, but the first since 1996, and the first one pitched by the Continentals.

Gabe Klein '13 led the Hamilton offense with three hits, including his third double, two runs scored and a run batted in. Joe Buicko '11 was 2-for-4, Wes Mayberry '11 singled and drove in a run, and Justin Atwood '11 plated a run with a sacrifice fly. Lukas Bridenbeck '13 and Mike Matt '11 chipped in one hit apiece.

Utica's Terrence Reyes '14 went 2-for-3 with a double and a stolen base, and was named the Pioneers' most valuable player. Nobody else had more than one hit for Utica. Chris Podlucky '13 smacked his fourth double and Angel Zapata '13 cracked his first. Chris Jeffers '14 started on the mound and dropped to 0-4. Jeffers allowed two earned runs on seven hits in 6.2 innings. He walked three and fanned two.

The Pioneers loaded the bases in the top of the first with a double and two infield singles. Henneberger escaped the jam by striking out the next three batters. The Continentals took a 1-0 lead in the bottom of the inning. With one out, Klein reached on an infield error, and Buicko and Mayberry were hit by pitches to load the bases. Atwood then hit a fly ball to deep left that scored Klein.

The score remained 1-0 until the seventh inning. Klein and Buicko hit back-to-back singles with one out. Mayberry followed with a sharp single that was misplayed by the left fielder. The ball rolled all the way to the base of the fence, and both Klein and Buicko scored to give Hamilton a 3-0 advantage.

In the bottom of the eighth, Matt led off with a walk and went to second base on a sacrifice bunt. After another walk, Klein laced a single down the right field line to score Matt. Zapata doubled to deep left field for Utica with one out in the ninth, but was stranded at third base as a ground ball to second ended the game.

The Pioneers host Ithaca College for an Empire 8 conference doubleheader on Saturday, April 16.