Baseball shut out by Amherst in NESCAC West game
---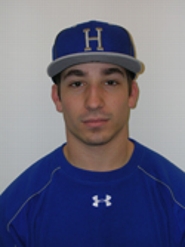 Thomas Wheeler '12 drove in five runs and Max McKenna '11 tossed a five-hit shutout to lead Amherst College to an 11-0 win against Hamilton College in a New England Small College Athletic Conference West Division baseball game at Hamilton's Royce Field on April 15.

Wheeler went 3-for-3 with two home runs and a double and scored three runs to lead the Amherst offense. He led off the second inning with a home run to left field, and made the score 4-0 with a two-run homer to left center in the third inning. His two-RBI double was part of a five-run fourth inning as the Lord Jeffs took a 9-0 lead. Wheeler leads the team with six round-trippers.

McKenna, who entered the afternoon with a 2.89 ERA, struck out five and walked two in nine innings. The two teams meet again at Hamilton for a doubleheader on Saturday, April 16.

Amherst (13-5 overall, 3-1 NESCAC West) has won three games in a row. The Lord Jeffs have allowed four runs during that win streak.

Hamilton (8-14, 1-3) had its win streak snapped at three games. The Continentals had allowed just one run in their previous two contests.

Brian Merrigan '11 went 4-for-4 with an RBI out of the eighth spot in the Amherst lineup. Jose Espinosa '11 had two hits, including a double, and drove in a run. Mike Samela '12 added two hits, including his second triple, and scored three runs. Taiki Kasuga '14 doubled and scored a run.

Gabe Klein '13 had three of Hamilton's five hits, including his fourth double. Klein has 10 hits in his last 15 at-bats. Kevin Prindle '13 added a double, and Justin Atwood '11 singled. Starting pitcher John Wulf '12 suffered his first loss this year in four decisions. Wulf allowed four runs on four hits and four walks in three innings.