Baseball drops NESCAC West doubleheader to Amherst
---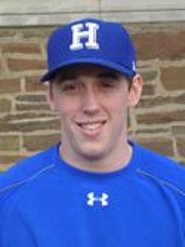 Kevin Heller '12 hit a three-run home run in the top of the ninth to break a 2-2 tie and lift Amherst College to the sweep of a New England Small College Athletic Conference West Division baseball doubleheader against Hamilton College at Hamilton's Royce Field on April 16.

Amherst (15-5 overall, 5-1 NESCAC West) has won five straight games, including all three this weekend against the Continentals. The Lord Jeffs blanked Hamilton 11-0 on Friday. On Saturday, Amherst won the seven-inning opener 15-8, and edged the Continentals 5-3 in the nine-inning nightcap.

Heller finished the doubleheader with two hits -- both home runs -- and five runs batted in. His blast in Game 2 came with runners on second and third and one out.

Mike Samela '12 hit a solo blast in the sixth inning and finished the nightcap with two RBI. Taiki Kasuga '14 had three hits, including his seventh double. Thomas Wheeler '12 singled and doubled, and Scott Shaffer '11 chipped in two hits.

Ryan Healy '11 improved to 3-0 as he allowed three runs on three hits in eight-plus innings. Healy struck out six and walked none. He left the game after allowing a single to the first batter he faced in the ninth. Hayden Metz '12 picked up his first save for pitching a scoreless ninth inning. Metz gave up one hit, fanned one and hit a batter.

For the Continentals (8-16, 1-5), Sam Choate '12 singled, homered and drove in two runs. Mike Matt '11 smacked the second home run of his Hamilton career, and Kyle Mason '11 had a pinch-hit single in the ninth. Kevin Prindle '13 took the tough-luck loss. Prindle (1-3) allowed four earned runs on 11 hits and four walks, and struck out five in a complete-game effort.

In the opener, Nolan Stewart '13 had three hits, including a home run, and drove in four runs for Amherst. Kasuga chipped in three hits, three runs scored and three RBI. Shaffer singled, doubled, scored three runs and drove in one. Wheeler had two hits, including a double, and drove in two runs. Bob Cook '13 tripled and drove in a run, and Jose Espinosa '11 singled and had an RBI.

JJ Hoffstein '14 picked up his first win in relief of starter Fred Shepard '14. Hoffstein allowed one run on three hits in four innings, and struck out three.

Prindle led the Continentals with three hits, including his fourth double, and two RBI. Justin Atwood '11 went 2-for-3 with three runs scored and an RBI. Gabe Klein '13 had two hits and one RBI, and Pat Gennaco '11 singled and drove in two runs. Lukas Bridenbeck '13 doubled, and Matt, Wes Mayberry '11 and Joe Buicko '11 all had singles. Dan Kroening '11 started on the mound, threw five innings and was saddled with the loss.

The Jeffs scored five runs in the top of the first inning and led throughout. Hamilton was still within 10-8 through six innings, but Amherst put up another five runs in the seventh to clinch the victory.

The Continentals play St. Lawrence University in a non-conference game at Duffy Fairgrounds in Watertown, N.Y., on Wednesday, April 20. The Jeffs host Brandeis University in non-conference play on Tuesday, April 19.