Baseball edged twice by Williams
---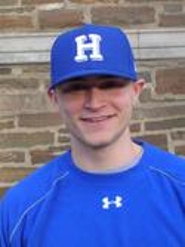 Tom Stephens '14 broke a 6-6 tie with a solo home run in the top of the 10th inning of Game 2, and Williams College went on to sweep a New England Small College Athletic Conference West Division baseball doubleheader against Hamilton College at Hamilton's Royce Field on April 30.

Williams (21-10 overall, 4-7 NESCAC West) edged the Continentals 3-2 in the opener, and won the second game 7-6 behind Stephens' first home run for the Ephs. Williams has won three straight games.

Hamilton (8-22, 1-10) has lost its last three division games by a run. The Continentals have dropped nine in a row overall. The two teams wrap up their three-game series at Hamilton on Sunday, May 1.

In Game 1, Harry Marino '12 scattered seven hits and allowed two runs in a seven-inning complete game effort for the Ephs. Marino walked one batter and fanned five. Marco Hernandez '14 led the offense with two hits and a run. Stephen Maier '12, James Allison '11 and Matt Kastner '14 drove in one run each.

The Continentals' Kevin Prindle '13 pitched nearly as well as Marino. Prindle allowed three runs on seven hits in seven innings, walked three and struck out three. He has pitched four straight complete games and lowered his ERA from 7.23 to 4.18 during that time. Justin Atwood '11 hammered a solo home run and finished with two hits. Pat Gennaco '11 doubled and scored the other run.

Williams scored three runs on four singles and a walk in the fourth inning for a 3-0 lead. Hamilton got one run back in the bottom of the fifth when Gennaco doubled with one out, went to third on a wild pitch and scored on another wild pitch with two outs. Atwood made it a one-run game on a towering home run to left field with one out in the seventh. But the Continentals didn't put anyone else on base against Marino.

In the nightcap, Stephens had two hits, including the homer with two outs in the 10th, and scored three runs. Patrick Blizzard '13 smacked a two-run homer in the first inning and finished with three RBI. Kastner went 3-for-5, and Pat Barren '11 singled, doubled and drove in a run. Jimmy Ray '13 pitched the final 3.1 innings and picked up the win. Ray allowed no runs on two hits, walked one and struck out one.

Sam Choate '12 paced Hamilton with three hits, including a solo homer in the second inning. Atwood singled and hit his 11th career home run to lead off the fourth inning. He ranks third on the team's career list in that category. Mike Matt '11 smashed a three-run homer that tied the score at 6-6 in the seventh inning. Lukas Bridenbeck '13 singled, doubled and drove in a run. Gabe Klein '14, Joe Buicko '11 and Wes Mayberry '11 had two hits each.

John Wulf '12 took the loss. Wulf struck out the side in the 10th -- his only inning -- but also allowed Stephens' round-tripper. Colin Henneberger '14 handcuffed the Ephs for five innings in relief of starter Dan Kroening '11. Henneberger allowed no runs on three hits, walked one and fanned three.

Williams led 5-0 after the top of the second, and 6-2 after the top of the fourth. Atwood made the score 6-3 with his homer in the bottom of the frame, and Matt tied things up with his blast in the seventh. After Stephens finally broke the tie in the top of the 10th, the Continentals tried to rally one last time. Choate led off with a single, but was forced out at second base on a fielder's choice. A single by Klein put runners at first and second with one out. Ray retired the next two batters on a pop-up and a strikeout to end the game.