Baseball clipped in 25th Jackie Robinson Game
---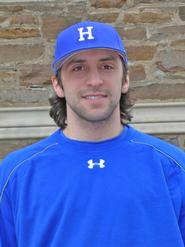 Utica College loaded the bases in the bottom of the 10th inning and Chris Podlucky '13 was hit by a pitch to lift the Pioneers to a 7-6 win over Hamilton College in the 25th playing of the Jackie Robinson Game in Utica, N.Y., on April 11.

Utica (4-17 overall) forced extra innings by scoring the game-tying run in the bottom of the ninth. The Pioneers hold a 14-11 lead in the series dating back to 1987.

Vincent Burillo '15 led Utica's offense with three hits, including two doubles, and scored three runs. Burillo scored the game-tying run in the ninth inning and was named the Pioneers' most valuable player. Nick Dunbar '13 smacked a triple and finished with three hits, and Ted Krueger '12 singled and drove in three runs. Podlucky, Dan Bittel '12 and Alec Choleva '14 added one single each.

Utica starting pitcher Chris Jeffers '14 surrendered seven hits and five earned runs over five innings. Matt Zitt '12 and James Richards '15 combined for 3.1 innings of scoreless relief. Podlucky came on with one out in the ninth and tossed 1.2 perfect innings to earn the win.

Sam Choate '12 led the Continentals' offense with two hits, including a triple, scored two runs and drove in two. Choate moved into sole possession of first place on the program's all-time hits list with 126, and ranks second with 85 runs, one behind the leader. He was named Hamilton's most valuable player of the game.

Gabe Klein '13 singled, tripled and finished with two runs and two RBI. Tyler Reinhold '15 singled and drove in a run, and Sam Fuentes '13, Joe Jensen '15 and Steve LaRochelle '14 had the other Hamilton hits.

Starting pitcher Alex Zeig '14 allowed four hits and two earned runs in three innings. Andrew Hove '15 pitched the fourth and fifth innings and allowed two earned runs on four hits. Tom Moriarty '14 and Stephen Wright '13 combined for 3.1 innings of scoreless relief and allowed just one hit. John Wulf '12 came on with one out in the ninth inning and suffered the loss.

Ben Hobaica '15 started the game-winning rally with a leadoff walk. Hobaica moved to second base on a balk and advanced to third on a sacrifice bunt by Nick Perkins '15. Hamilton intentionally walked Dunbar and Choleva to load the bases for Podlucky, who was hit by a pitch to force in Hobaica and end the game.

Burillo sparked the game-tying rally in the ninth inning with a one-out double. Bittel followed with a single to left field to tie the score at 6-6.

Hamilton (4-19) jumped out to a 2-0 lead in the top of the first inning when Wulf was hit by a pitch and scored on Klein's triple to right center field. Choate followed with a sharp single up the middle to score Klein.

Utica responded with two runs in the bottom of the second to tie the score. Burillo singled and later scored on a wild pitch, and Bittel walked before he came around to score on a Hamilton error.

The Continentals fought back with two more runs in the top of the third inning. Choate tripled to left center field to score Klein, and Choate scored on a wild pitch to put the visitors back up by two runs at 4-2.

The Pioneers' cut their deficit to one run in the bottom half of the inning when Dunbar scored on a bases-loaded walk to John Grogan '12. Hamilton added another run in the top of the fourth inning on Klein's RBI single to push its lead back to two runs at 5-3.

Utica was able to tie the score again in the bottom of the fifth inning. Podlucky and Burillo led off with back-to-back hits, and both scored on Krueger's single. Hamilton went back up 6-5 on two Utica errors in the top of the seventh inning.

Hamilton hosts Middlebury College for a NESCAC West Division game on Friday, April 13, at 4 p.m.