Baseball clips Cazenovia in non-conference contest
---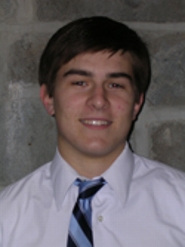 Hamilton College's Joe Jensen '15 had a two-run single and stole three bases and the Continentals held on for a 7-6 non-conference win against Cazenovia College at DeLutis Field in Rome, N.Y., on April 15.

With a runner on first and two outs in the bottom of the ninth, Hamilton's Tommy Moriarty '14 ended the game by picking off the runner. Moriarty tied a school record with his fourth save this year. The game was originally scheduled as a doubleheader on April 10, but was postponed due to rain and reduced to one nine-inning contest.

Jensen improved his school single-season stolen base record to 20, which leads the NESCAC. Tyler Reinhold '15 singled and drove in a pair of runs, Sam Fuentes '13 finished with a single and an RBI and Colin Henneberger '14 knocked in a run.

Mike Williams '16 allowed four runs on six hits and struck out three in five innings. Steve Wright '13 (2-1) got the win after throwing three innings and giving up two hits and one unearned run and Joe Wagner '15 pitched one scoreless inning, striking out two batters. Moriarty pitched the final two innings and gave up one unearned run in his 19th appearance this year.

Cazenovia (8-15 overall) was led by Tim Ackerman's single, double and two runs scored. Alex Rudiak had two hits and an RBI and Pat Sheperdson collected a hit and two RBI. Joe Rogers threw seven innings and gave up seven runs (three earned) on five hits, struck out four and walked five. Tom Debernardis pitched the final two innings and yielded one hit.

Hamilton (10-15) started early with four runs in the top of the first inning. The Continentals had the bases loaded on three walks and Fuentes' two-out RBI single plated Zack Becker '16. Henneberger also scored on the play after an error was committed in right field. Fuentes stole second and put two runners in scoring position, and Reinhold smacked a two-run single for a 4-0 lead.

Cazenovia responded with a pair of runs in the second and third innings that evened the score. In the second, Sheperdson led off with a walk and went to third on Ackerman's double. A single by Michael Makara scored the first run and Rudiak's sacrifice bunt plated another. In the third inning, singles and stolen bases by Dan Hodne and Zach Levanduski gave the Wildcats runners on second and third again. Sheperdson followed with a two-run single that tied it at 4-4.

In the top of the fourth for Hamilton, Brian Ferrell '16 was hit by a pitch and Tim Burke '16 doubled. Jensen scored both runners with a single and put Hamilton back on top, 6-4. The Wildcats got back within a run in the bottom half of the inning. Rudiak singled, stole second and came around to score on an error.

The Continentals added an insurance run in the seventh. Jensen reached on an error and stole second and third. Becker walked and advanced to second on a ground ball to the first baseman. Henneberger grounded out to short, but that allowed Jensen to score for a 7-5 lead.

Moriarty retired the first two batters in the bottom of the ninth before Cazenovia rallied. Ackerman singled and stole second, and Makara reached on an infield error that scored Ackerman and cut Hamilton's lead to 7-6. James Chase pinch ran for Makara and Moriarty picked him off first for the final out.

Hamilton returns to DeLutis Field for a non-conference doubleheader against Keuka College on Wednesday, April 17.