Baseball drops doubleheader at Middlebury
---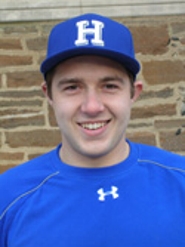 Hamilton College was swept by Middlebury College in a New England Small College Athletic Conference West Division doubleheader at Middlebury's Forbes Field on April 22.

Middlebury (11-9 overall, 7-4 NESCAC West) won the opener 9-0, and claimed a 9-1 victory in Game 2. The Panthers have won three straight games.

Hamilton (8-18, 1-7) dropped its fifth straight game. The two teams play a single nine-inning game at Middlebury on Saturday, April 23.

In Game 1, Joe Buicko '11 had two hits, and Mike Matt '11 and Gabe Klein '14 added one apiece for the Continentals. Tom Moriarty '14 pitched two hitless innings in relief of starter Colin Henneberger '14.

In the second game, Matt went 3-for-3, and Wes Mayberry '11 and Kevin Prindle '13 chipped in two hits apiece. Klein, Kyle Mason '11 and Remy Kartzman '14 had one hit each. Mason scored a run and Buicko drove in one.

Michael Joseph (2-2) tossed a four-hit complete game shutout in the opener as he struck out six in the seven-inning contest. The Panthers jumped on Henneberger (1-4) in the first, with a leadoff triple from Thomas Driscoll. Zach Roeder singled through the right side to score Will Baine, before Michael Morris belted a double to left to plate Thomas Rafferty and Roeder.

The Panthers added to the lead in the second with a two-run double to left by Baine to make it a 5-0 contest. After scoring a run in the third, RBI singles from Joseph Conway and Tyler Wark in the fifth increased the lead to 8-0.

Hamilton's best chance to score came in the sixth with two on and two out. Mayberry hit a shot to right that was denied on a diving catch by Donald McKillop to keep the Continentals off the board.

Middlebury added a run in the sixth to come away with the victory. Rafferty went 3-for-4 in the game, followed by Roeder, who was 2-for-2 with three runs scored and two RBI. Driscoll and Wark each had a pair of hits in the contest.

In the second game, Middlebury starter Nick Angstman improved to 3-0 overall as he tossed seven innings in a 9-1 nine-inning victory. Scooter Scott closed out the game with two innings of scoreless relief.

Roeder broke up a scoreless game in the fifth with a bases-loaded double down the left field line to score three. The Panthers came right back in the sixth with three runs on four hits to make it 6-0. Driscoll singled through the right side to score Wark and Conway, before Baine plated Alex Kelly with a single through the left side.

Hamilton scored its only run of the day in the top of the seventh on a bases-loaded RBI groundout. Baine made a nice play on a ball hit to short by Buicko, and threw him out at first as Mason came in the back door.

Middlebury added a run in the seventh and two in the eighth on a double to left center by Rafferty for the final score. Roeder went 3-for-4 with a double, three RBI and a run scored. Baine was 3-for-5, Driscoll and Conway each went 2-for-5, while Michael Morris was 2-for-4. Roeder and Driscoll extended their hitting streaks to 11 games.

Dan Kroening suffered the loss with five earned runs and seven hits over 5.1 innings of work.