Baseball drops doubleheader at Williams
---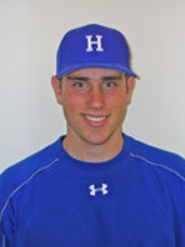 Hamilton College dropped a New England Small College Athletic Conference West Division doubleheader to Williams College at Williams' Bobby Coombs Field on April 18.
The Continentals (6-20 overall, 0-9 NESCAC West) lost a close seven-inning first game, 6-5, and fell 11-7 in Game 2. Max Foster '10 pitched the first five innings of Game 1. Foster allowed four earned runs on nine hits, walked three and struck out three. Nzaba Fonseca-Sabune '12 and Kevin Prindle '13 combined to pitch a scoreless sixth inning.
Alex Augustyn '10 scored twice, and hit one double and one single. Justin Atwood '11 scored one run, and had one hit and one run batted in. Dan Peters '13 scored once and recorded one hit and two RBI. Grady Vigneau '10 hit one double and tallied two RBI.
Augustyn scored on an Atwood single in the first inning to give Hamilton a 1-0 lead. Williams (14-9-1, 7-2) took control with two runs in the first, second and third innings for a 6-1 lead.

The Continentals rallied with four runs in the top of the sixth. After three walks to load the bases, a single by Peters drove in two runs. Vigneau followed with a double to drive in two more runs, but a ground out and a fly out ended the rally with runners at second and third.
Rob Barbieri '13 started on the mound for Hamilton in Game 2, pitched 1.1 innings and took the loss. Stephen Wright '12, John Wulf '12, Eli McCargar '10, Alex Potoczak '13 and John Summa '12 all made relief appearances. Wright and McCargar struck out two batters apiece.
Wes Mayberry '11 hit a triple, a double and recorded two RBI. Prindle had a double and one RBI. Joe Buicko '11 tallied three hits in a game for the first time this season and drove in a run. Michael Matt '11 and Augustyn both had one hit and one RBI. Vigneau finished with two singles.
Hamilton grabbed a 1-0 lead in the first when Buicko scored on a double by Prindle. Williams scored four runs in the bottom of the inning and three more in the second. The Ephs added to their lead with one run in the fourth for an 8-1 advantage.
The Continentals made the score 8-2 with one run in the top of the sixth. Mayberry struck out swinging but the ball got away and the catcher had to throw him out at first. Buicko was able to score on the throw. Williams regained its seven-run lead with another run in the bottom of the frame.
Hamilton rallied to score five runs in the seventh inning to get within 9-7. A single by Matt drove in the first run. Buicko followed with a sacrifice fly to center to drive in a run, and Augustyn singled to center to plate another. Mayberry's double to center drove in the final two runs. Williams answered with a pair of runs in the bottom of the seventh for the final margin.
The Continentals travel to Duffy Fairgrounds in Watertown, N.Y., to play a non-conference game against St. Lawrence University on Wednesday, April 21.