Baseball drops doubleheader in season opener
---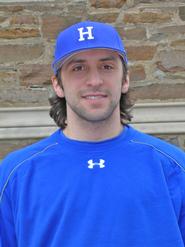 Will Benenson hit a go-ahead home run in the bottom of the fourth inning of Game 1, and smacked another in the top of the second inning of Game 2 to lead Franklin & Marshall College to a sweep against Hamilton College in a non-conference doubleheader in Auburndale, Fla., on March 12.

Franklin & Marshall (5-4 overall) took the opening game 10-6, and completed the sweep with a 10-2 win in the nightcap.

Hamilton (0-2) was playing its 2012 season opener. The Continentals are in Florida until March 22 for a 15-game spring trip. Hamilton plays Massachusetts College of Liberal Arts in a doubleheader on Tuesday, March 13, at 9:30 a.m.

In Game 1, Benenson belted a double to go along with his home run, and finished with six runs batted in. Andrew Green picked up the win, pitching 3.1 scoreless innings in relief. Green allowed three hits, struck out three batters and walked one. Chris Haylon held the Continentals scoreless over the final two innings to earn his first save.

Thomas Merriman '15 paced Hamilton with three hits in his first collegiate game. Gabe Klein '13 singled, doubled and drove in three runs. Sam Choate '12 singled in the top of the first inning for his 100th career hit. Choate smashed an RBI double in the top of the second, and finished with two runs. Sam Fuentes '13 singled twice, and Joe Jensen '15 and Alex Pachella '15 each posted two hits in their first collegiate action.

Hamilton jumped out to an early lead with two runs in the top of the first inning. Fuentes then singled to lead off the second, and Pachella dropped down a bunt single one batter later. Jensen singled home Fuentes, and Choate followed with an RBI double to left to bring home Pachella. Klein capped the inning with a two-run single to left field.

The Continentals took a 6-5 lead into the fourth inning, but Benenson's homer put the Diplomats ahead for good. Aaron Gillette doubled with one out, and Triantos beat out an infield single to put two runners on. Benenson's three-run blast to left field gave Franklin & Marshall an 8-6 lead.

In the nightcap, Evan Lang scattered six hits and allowed one run in five innings of work for the Diplomats. Lang walked one batter and fanned seven. J.T. Triantos smacked three doubles and a triple, drove in three runs and scored two to lead the offense. Benenson homered and Tyler Veterano doubled.

Lukas Bridendeck '13 singled, doubled and scored a run to lead the Continentals. Fuentes and Tyler Reinhold '15 doubled, and Reinhold drove in the first run of his Hamilton career. Merriman ripped an RBI single down the right field line in the top of the second inning.

After each team scored a run in the first inning, Franklin & Marshall pulled away with a five-run second inning. Three straight walks loaded the bases, but Jensen got the Diplomats' next hitter to line into a double play. Gillette struck out swinging, but was able to reach base on a wild pitch. Triantos followed with a two-run double down the right field line, and Benenson homered to give Franklin & Marshall a 6-1 lead.