Baseball drops game to UMass Dartmouth
---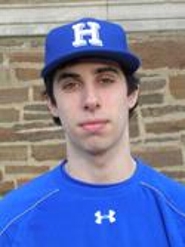 The University of Massachusetts-Dartmouth broke open a close game with five runs in the sixth inning and 10 more in the seventh, and went on to defeat Hamilton College 22-8 in a non-conference game at Lake Myrtle Field in Auburndale, Fla., on March 18.
Eli McCargar '10 started on the mound and pitched into the fifth inning for the Continentals (1-5 overall). McCargar was saddled with his first loss. Donovan Flint '11, Max Currier '10, Alex Augustyn '10, Rob Barbieri '13 and Kevin Prindle '13 all made relief appearances.
Hamilton scored two runs in the first inning and added another in the top of the second to go up 3-0. UMass Dartmouth (4-3) answered with two runs in the bottom of the frame and one in the third to tie the score.

The Corsairs took control with two more runs in both the fourth and fifth innings for a 7-3 lead. The Continentals pulled within 7-4 with a run in the sixth, but UMass Dartmouth pulled away with five in the bottom half of the sixth and 10 in the seventh. The Continentals scored twice in the seventh and twice more in the ninth for the final.
Sam Fuentes '13, Wes Mayberry '11, Justin Atwood '11 and Prindle finished with two hits each. Mayberry tripled and drove in two runs. Fuentes hammered a triple and Atwood added a double. Prindle scored two runs and stole two bases. Kyle Mason '11 came into the game in the later innings to catch and laced a triple.
The Continentals return to action on Saturday, March 20, against Worcester State.