Baseball drops game to Wesleyan
---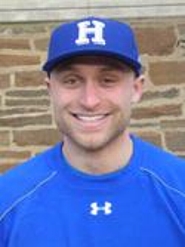 Wesleyan University scored five runs in the top of the first inning, and went on to defeat Hamilton College 13-2 in a New England Small College Athletic Conference West Division game at DeLutis Field in Rome, N.Y., on April 9.
Michael Caruso '12 started on the mound and lasted one-plus inning for the Continentals (5-14 overall, 0-4 NESCAC West). Caruso took the loss, and his record is 1-1.

Eli McCargar '10 pitched admirably in relief. McCargar allowed three runs on five hits, walked one and struck out one in five innings. Alex Potoczak '13, John Wulf '12 and John Summa '12 all made relief appearances. Potoczak and Summa pitched for the first time at Hamilton.
Grady Vigneau '10 paced the Hamilton offense with a double, a single and two walks. Wes Mayberry '11 finished with two hits and scored one run. Alex Augustyn '10 singled in a run. Joe Buicko '11, Dan Peters '13 and Sam Fuentes '13 each recorded one single.
The Cardinals (17-6, 5-2) scored five runs on just one hit in the top of the first and added another in the top of the fourth for a 6-0 lead. The Continentals scored once in the bottom of the fourth, when an Augustyn single drove in Mayberry.
Wesleyan scored two more runs in the sixth, one in the seventh, and three in the eighth for a 12-1 advantage. Hamilton added one more run in the bottom of the eighth. Peters singled and advanced to third on a single by Vigneau. Peters scored when Kyle Mason '11 reached on a fielding error by the Cardinals' third baseman. Wesleyan added one more run in the top of the ninth for the final margin.
The Continentals host Wesleyan for a NESCAC West Division doubleheader on Saturday, April 10.