Baseball drops NESCAC opener at Amherst
---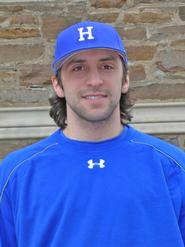 Amherst College collected seven hits and scored eight runs in the third inning, and the Lord Jeffs defeated Hamilton College 13-1 in a NESCAC West Division game at Amherst's Memorial Field on March 30.

Taiki Kasuga '14 and Bob Cook '14 each had two hits and drove in three runs. Mike Samela '12 was 3-for-3, and Kevin Heller '12 and Alex Hero '14 added two hits apiece. Starting pitcher John Cook '15 scattered three hits and one earned run over five innings of work. Cook walked two batters and fanned two.

Sam Choate '12 led the Continentals offensively with two hits. Thomas Merriman '15 had an RBI single, and Tyler Reinhold '12 smacked a double. John Wulf '12 singled and scored Hamilton's run. Starting pitcher Ryan Crawford '15 surrendered 10 hits in 3.1 innings. Crawford allowed four earned runs, walked two batters and struck out two.

Amherst (8-4 overall, 1-0 NESCAC West) took a 1-0 lead in the bottom of the first inning. Hero led off with a single up the middle, stole second and advanced to third on a Hamilton error. Hero later scored on a Kasuga base-hit to left. After reaching on another error in the bottom of the second, Nolan Stewart '13 beat out the throw at third before coming home on a passed ball to make it 2-0.

Hamilton (3-13, 0-1) got a run back in the top of the third when Wulf led off with a walk. Choate kept the inning alive by legging out an infield single to short, and Gabe Klein '13 drew another walk to load the bases. Merriman followed with a single to left to bring home Wulf.

Heller got things started in the bottom half of the inning with a double into the right field gap. Advancing to third on a Samela single, Heller later crossed the plate on Cook's triple to center, and extended the Amherst lead to 3-1.

After Bob Cook scored on an error, Stewart doubled in the Jeffs' fourth run before moving to third on a Quinn Saunders-Kolberg '14 single. Hero came home on a sacrifice fly, and Kasuga made it 6-1 with an RBI double.

Samela plated another run with a two-out RBI single before Bob Cook reached on an error, allowing Kasuga to cross home plate. Brendon Hardin '15 was hit by a pitch with the bases still loaded to force in the eighth run of the inning. Crawford finally ended the Amherst threat, getting Stewart to foul out to third.

The Jeffs tacked on three more runs in the bottom of the fourth on a Kasuga sacrifice fly and a Bob Cook two-run single that made it 13-1. Dylan Driscoll '14, Jack Falvey '15 and Andrew Hum '15 combined for four shutout innings in relief, surrendering just two hits and striking out six.

Hamilton takes on Amherst in a NESCAC doubleheader on Saturday, March 31, at noon.