Baseball edged by Williams
---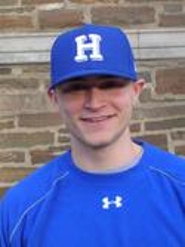 Williams College scored four runs in the bottom of the eighth inning and defeated Hamilton College 6-4 in a New England Small College Athletic Conference West Division game at Williams' Bobby Coombs Field on April 17.
Hamilton (6-18 overall, 0-7 NESCAC West) led 3-2 going into the eighth inning. The Continentals scored one run in the top of the eighth, but Williams (13-9-1, 5-2) rallied with four runs for the come-from-behind win.

Dan Kroening '11 pitched the opening 4.2 innings and allowed two runs on two hits. Kroening walked three and struck out three batters. Stephen Wright '12 and Rob Barbieri '13 combined for 2.1 innings of scoreless relief. Eli McCargar '10 faced two batters in the eighth, and Alex Augustyn '10 finished the inning and took the loss.
Augustyn finished with two doubles and Dan Peters '13 hit one. Joe Buicko '11 hit his first home run of the season -- a shot to left field to lead off the game. Kevin Prindle '13 finished with three hits and one RBI. Justin Atwood '11 had one hit and two RBI.
After Buicko's lead-off homer, Wes Mayberry '11 scored Hamilton's second run when Atwood reached first base on a fielder's choice. In the third, Augustyn doubled to left center and scored on a Prindle single to put Hamilton up 3-0. Williams scored two runs in the bottom of the fourth to cut its deficit to one.
Prindle singled through the right side to lead off the eighth inning and later scored on a single by Atwood. Williams scored four runs on six hits in the bottom of the eighth. The Continentals were retired in order in the top of the ninth.
Hamilton will play a NESCAC West Division doubleheader against Williams on Sunday, April 18.