Baseball edges Union in extra innings
---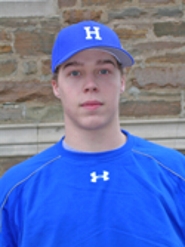 Hamilton College defeated Union College 8-7 in 10 innings and fell 6-4 to Benedictine University in non-conference games at Lake Myrtle Park in Auburndale, Fla., on March 20.

Hamilton (3-5 overall) needed to rally twice to get by Union. The Continentals scored three runs in the bottom of the ninth to tie the score at 6-6 and send the game to extra innings. The Dutchmen grabbed the lead again with a run in the 10th, but Todd Haylon '12 came through in the clutch in the bottom of the frame.

In the ninth, pinch-hitter Kyle Mason '11 led off with a walk. Michael Matt '11 doubled to put runners at second and third. Steve LaRochelle '14 singled to drive in Mason and was replaced by pinch-runner Joe Buicko '11. Buicko moved to second on a fielder's choice by Remy Kartzman '14 as Matt scored. With two outs, Lukas Bridenbeck '13 singled to put Buicko at third, and Buicko scored the tying run on a wild pitch.

Hamilton wasted no time in the bottom of the 10th after falling behind in the top of the inning. John Wulf '12 led off with a single, Mason was hit by a pitch and Matt dropped a bunt single between the mound and first base. Haylon pinch hit for Buicko and delivered with a two-run double to end the game.

Sam Choate '12 and Matt had two hits apiece. Alex Potoczak '13 picked up his first collegiate win with two innings of relief. Kevin Prindle '13 started on the mound and allowed three earned runs on six hits in six innings. Prindle walked one and struck out four.

Benedictine (5-2) grabbed an early lead with four runs in the bottom of the first inning. The Continentals pulled within 5-4 after scoring two runs in the seventh. Benedictine completed the scoring with an insurance run in the eighth.

Prindle posted two hits and two runs batted in, and Wes Mayberry '11 added two hits. Gabe Klein '14 cracked a double. Starting pitcher Dan Kroening '11 settled down after the first, and pitched all eight innings. Kroening scattered 10 hits.

Hamilton takes on Trinity College for a non-conference doubleheader in Auburndale on Tuesday, March 22.